Zac Brown Band, Y Live sweep Valley off its feet
---
By JORDYN GRZELEWSKI
and
WILLIAM K. ALCORN
grzelewski@vindy.com
alcorn@vindy com
YOUNGSTOWN
Zac Brown Band at YSU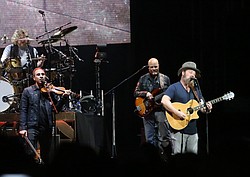 Gallery
Concertgoers let out screams, and many rushed back to their seats as the first notes of Zac Brown Band's act filled Youngstown State University's Stambaugh Stadium.
"How come all the pretty girls like you are taken, baby," Zac Brown sang to cheers and applause as the band launched into its hit "Keep Me in Mind."
The Atlanta, Ga.-based country music act, a three-time Grammy award winner, played to a crowd of nearly 17,000 – a first for the Ice Castle. The turnout was touted by event organizers as "historic."
"When we announced the show, we knew that the community would support the concept of the event, but they have truly blown us away with a record-breaking crowd," said Eric Ryan, president of JAC Live, which co-promoted the event with the Muransky Companies.
"The stadium has not seen a concert of this magnitude and this is an incredible start for what we hope will be a staple in the Valley's summer calendars for years to come," Ryan said.
For their part, concertgoers seemed more than satisfied with the event. Many noted that they frequently travel to venues in the Pittsburgh and Cleveland areas.
"We go to a lot of country concerts. We have to drive an hour, hour and a half," said Jill Lisner of Boardman. "This is right in our backyard."
David Horn, Nathan Hugenberg, and Mary Fiore also were excited about attending a big-name concert in their hometown. They often go to outdoor concerts at Blossom Music Center in Cuyahoga Falls and KeyBank Pavilion in Burgettstown, Pa.
"I'm excited and surprised," said Horn, of the act coming to Stambaugh.
"I just want to see this continue," he said. "Youngstown is getting back on the map. It's nice to see."
As he opened the show, Zac Brown himself noted the significance of the event, telling an applauding crowd, "Thanks for letting us break the seal on this place."
The band played many of its well-known hits, some newer material, and several cover songs. Included on the set list were Zac Brown Band's "Sweet Annie, " "The Muse," "Start Over," and "Toes," which seemed to be a crowd favorite.
The band covered Kings of Leon's "Use Somebody" and Queen's "Bohemian Rhapsody."
It also played "Great Day to Be Alive," a song popularized by Travis Tritt but written by Darrell Scott. Scott was one of the night's opening acts, and joined Zac Brown Band on stage for "Great Day to Be Alive."
While playing "Chicken Fried," the band's first and biggest hit, a three-man Marine honor guard marched on the stage. Brown thanked them for their service.
The first act of the night was country music group Midland.
The show began at 7 p.m., and Zac Brown Band took the stage about 8:35. The group played until about 10:45, ending with a cover of "Paradise City" by Guns N' Roses.
Long before show time, however, Valley concertgoers got into the spirit of the event.
Many hundreds of Zac Brown Band fans revved up for the band's history-making outdoor performance during tailgate parties at the university and at Youngstown's downtown restaurants.
"It's so nice to have an event like this so close to home," said Nancy Hemminger of West Middlesex, Pa., who came to the concert with her husband, Tracy, and about 20 friends and family members, including their children, Amelia, Lydia and Alena, and son, Luke, a sophomore at YSU. They found their spot in the tailgate area at about 2:30 p.m., nearly five hours before the concert was scheduled to begin.
Marty Campana and Robert Kowalewski, both of Boardman and both Zac Brown fans, spent the afternoon sitting back and relaxing while waiting for the concert.
"I love Zac Brown because he is a family man who takes his family with him on tour, because of his patriotic music, and because he stands behind our troops," said Campana, who also noted all the revenue the event brought to the university and the city.
"It's awesome to be able to come to Youngstown instead of having to drive to Pittsburgh or Cleveland to see Zac Brown," said Frank and Valerie Pinciaro of McDonald.
Marcia Moss of Petersburg and Connie Borelli of East Palestine were enjoying a 'girls night out' tailgating before the concert.
The women, both fans of the Zac Brown Band and country music in general, said it's nice to have the concert this close to home.
The tailgating crowd also included a large number of young adults.
Among them were friends Eric Barto and Jeff Davidson, both of Columbiana, Suzie Murcko of Mercer, Pa., and Rachel Bielecki of Cortland, who was looking forward to her first country music concert.
"We're here to have a good time with friends and hear good music," said Suzie.
Vindicator entertainment reporter Guy D'Astolfo contributed.
More like this from vindy.com