Reserve runs over Columbiana
---
Western Reserve vs Columbiana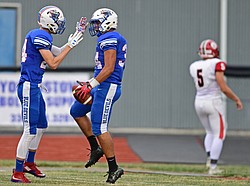 Gallery
Reserve runs over Columbiana
By Brian Dzenis
BERLIN CENTER
Western Reserve finally got the home opener it wanted.
For the past two seasons, Columbiana was the spoiler. Now-graduated Clippers quarterback Mitch Davidson would terrorize the Blue Devils defense as they gave up a combined 107 points in two-straight season-opening losses.
Photo Gallery: Western Reserve vs Columbiana
On Thursday night, Western Reserve held Columbiana to three points as it won, 34-3.
"It burned me the last two years giving up that much. They were always close games. It always came down to the fourth quarter and we would be gassed," WR linebacker Jack Cappabianca said. "I felt good coming into today and I felt that we prepared a lot better."
Western Reserve's first victory against the Clippers since 2014 featured stellar two-way play. Cappabianca, an Ohio State walk-on, rushed for 113 yards on just nine carries while getting two sacks on defense.
His backfield mate, Adam Gatrell, ran for 75 yards a touchdown, but his best work may have been on special teams as he blocked two punts. Dom Velasquez also put up a strong performance at QB, going 12-for-20 for 155 yards and two touchdowns. Western Reserve's offense had no turnovers.
As a unit, the Blue Devils' defense sacked Columbiana's Jakob Cross three times and held the Clippers to 125 total yards. Coach Andy Hake had his defensive backs cover the Clippers wideouts one-on-one while having everyone else in the front seven tee off on Cross.
"Kade Hilles and Ryan Demsky covered them one-on-one on the outside and it allowed us to go after [Cross] with our d-line and linebackers. I'm really proud of those guys on the outside being able to play man and so did our sophomores [Todd Henning and Jimmy Mayberry] in the slot," Hake said. "It's really hard to do that against them."
Cross was the Clippers' most effective offensive player, getting 32 yards on the ground. By air, he was 6-for-19 for 89 yards.
"There's not a lot to say. There was a lot of inconsistency offensively," Columbiana coach Bob Spaite said. "We have to get better."
The first two Blue Devils offensive plays resulted in touchdowns. Cappabianca took his first handoff 69 yards for a touchdown.
Reserve then forced the Clippers to turn the ball over on downs at their own 40-yardline. On the first play of the subsequent drive, Blue Devils quarterback Dom Velasquez lobbed the ball 40 yards to Kade Hilles to build a two-score lead. Velasquez turned a would-be sack into a TD on the play.
"I saw [the defensive lineman] out of the back of my eye there and I tried to make the best move that I could to shake him," Velasquez said. "I guess he slipped or I shook him and then I saw my big target [Hilles] wide open and I just threw it as hard as I could."
Western Reserve's third TD came as Columbiana fell victim to some retroactive officiating.
With about nine minutes left in the first quarter, the Clippers defense forced a three and out and the Blue Devils wisely punted the ball away.
As the Clippers ran their first offensive play, officials halted play. They determined that Columbiana had committed a personal foul during the punt and that meant a first down for the Blue Devils.
Spaite declined to address the officiating snafu.
Three minutes later, Velasquez tossed a 39-yard touchdown pass to Demsky. Columbiana broke the shutout in the final minutes of the first quarter with Jared Bryarly's 23-yard field goal.
Cappabianca punched his second touchdown from two yards out at the end of a six-minute drive in the second quarter. In a drive set up by Gatrell's second blocked punt in the third quarter, he had a four-yard touchdown run to turn on the running clock.
More like this from vindy.com