Mature Indians overwhelm Red Dragons
Niles vs Girard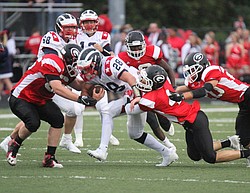 Gallery
By Steve Ruman
GIRARD
A youthful Girard High football team showed signs of growing pains while compiling a 5-15 record during the 2015 and 2016 seasons.
Thursday night at Arrowhead Stadium, the Indians displayed the poise of a veteran squad which has learned from the past and is ready to storm into the future.
Photo Gallery: Niles vs Girard
In what was the 75th meeting between backyard rivals Girard and Niles, the Indians rolled to a 47-24 victory. The win avenges two straight losses to the Red Dragons.
Girard junior quarterback Mark Waid certainly proved his maturity as a player and team leader. Waid threw for 261 yards and three touchdowns and rushed for 119 yards and a pair of TDs.
Waid's heroics were one of several standout individual performances turned in by the Indians.
Michael Belcik was on the receiving end of eight of Waid's passes. The senior pulled in touchdowns receptions of 39 and 50 yards, and accumulated 181 yards in all.
Morgan Clardy also scored twice, rushing in from a yard out in the first quarter, then capping the night's scoring with a 35-yard run to paydirt.
Girard's defense made numerous big plays throughout the night, including a forced fumble and an interception — both which led to scores.
"That's what I'm proudest about, the fact that this was a total team effort across the board," Girard coach Pat Pearson said. "Offense, defense, special teams were outstanding. This win tonight showed the unity of this team. They love each other, they play like brothers. They are very unselfish."
"We had some really big individual performances of course, but this was a total team victory."
Niles was led offensively by senior quarterback Jordan Soda, who threw for 205 yards. Junior running back Robbie Savin rushed for 180 yards, including a 60-yard TD run.
Niles took the opening kickoff and marched down to the Girard 18 before a forced fumble gave the Indians their first possession. They needed just six plays to drive 72 yards, ending with a Belcik 39 yard catch.
The two teams traded touchdowns to tie the game at 14-14 four minutes into the second quarter, but then Girard scored two straight touchdowns and never looked back.
Clardy scored his first touchdown at the 5:39 mark of the second quarter. Just two minutes later, an Aidan Warga interception inside the Niles 20 helped Girard build its lead to 28-14
"Our defense really came to play," Pearson said. "There's a lot of talk about them not being up for the challenge, but they stepped up tonight. We gave up some big plays, but overall they did a nice job."
Waid said that Girard's win was a year in the making.
"Since Aug. 25 of last year, we lost to them twice in a row and we were tired of it," Waid said. "Our main focus was to come out here and beat our rivals. My team, my brothers played amazing. I couldn't be more proud of them.
Waid said that he and Belcik "have a special bond" which helps them on the field.
"We've always been close. Not just on the field, but off the field we're brothers," Waid said. "We think the same thoughts. I know where he's going to be, and he knows where I'm going to throw it."
"And, I can put the ball anywhere and he'll go up and get it. That dude is a freak of nature."
Niles coach Brian Shaner had praise for the Indians.
"They're extremely talented," Shaner said. "We knew depth was going to hurt us, and they showed it. They kept coming. They've got a great football team. They've got a ton of three-year starters. They're going to have a great season."
"We're young, but we played hard. We played with heart. My hat's off to Girard."
More like this from vindy.com