ZAC BROWN BAND | Crowd goes wild as the band hits the stage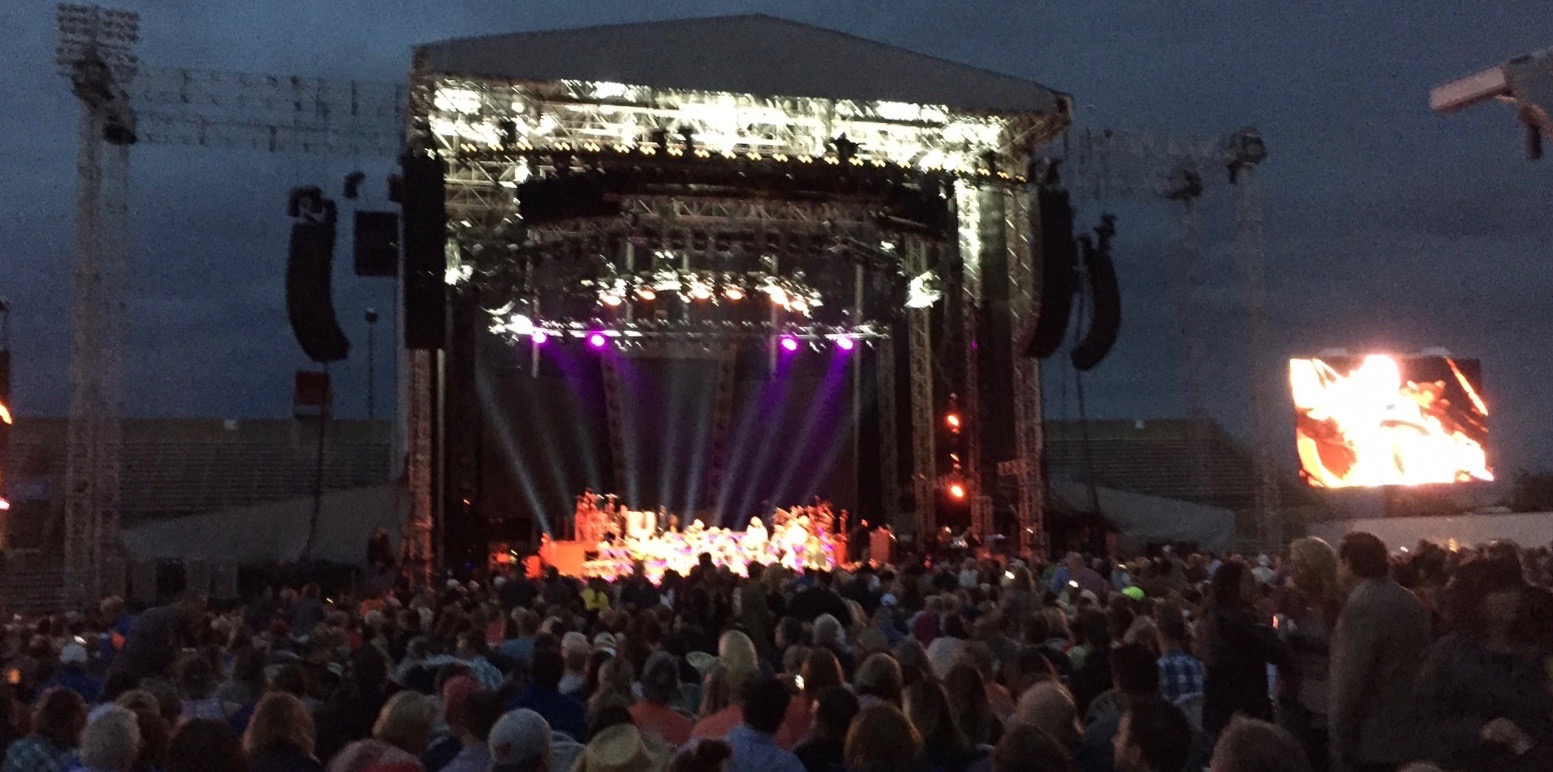 ---
8:48 p.m.
YOUNGSTOWN
People let out screams and rushed back to their seats as the first notes of Zac Brown Band's act filled the stadium. 
The band took the stage about 8:35, leading with their hit song "Keep Me in Mind."
Zac Brown told the crowd, to applause, "Thanks for letting us break the seal on this place," referring to the first-time concert at this venue. 
8:24 p.m.
YOUNGSTOWN
The night's second act, Darrell Scott, took the stage about 8 p.m.
David Horn, Mary Fiore, and Nathan Hugenberg, all of the Youngstown area, said they were excited to have Zac Brown Band come to Stambaugh.
"I was actually really surprised," said Horn. "I'm excited and surprised."
All said they're fans of the band. 
"They do everything, from rock to bluegrass to country," said Horn.
"I'm just a fan of country in general," said Hugenberg. 
Asked if they'd like Y Live to continue in the future, it was a definite yes. 
As far as acts they'd like to see, Horn said he'd like to see Luke Bryan come to Youngstown. 
Numerous people at the show have noted that they often drive to the Pittsburgh and Cleveland areas for concerts, and it's nice that they didn't have to drive far away for this show. 
"I just want to see this continue," said Horn. "Youngstown is back on the map. It's nice to see."
7:35 p.m.
YOUNGSTOWN
Many hundreds of Zac Brown Band fans revved up for the band's history-making outdoor performance at Youngstown State University's Stambaugh Stadium during tailgate parties at the university and at Youngstown's downtown restaurants.
"It's so nice to have an event like this so close to home," said Nancy Hemminger of West Middlesex, Pa., who came to the concert with her husband, Tracy, and about 20 friends and family members, including their children, Amelia, Lydia and Alena, and son, Luke, a sophomore at YSU. They found their spot in the tailgate area at about 2:30 p.m., nearly five hours before the concert was scheduled to begin at 7 p.m.
Marty Campana and Robert Kowalewski, both of Boardman and both Zac Brown fans, spent the afternoon sitting back and relaxing while waiting for the concert.
"I love Zac Brown because he is a family man who takes his family with him on tour, because of his patriotic music, and because he stands behind our troops," said Campana, who also noted all the revenue the event brought to the university and the city.
"It's awesome to be able to come to Youngstown instead of having to drive to Pittsburgh or Cleveland to see Zac Brown," said Frank and Valerie Pinciaro of McDonald.
Marcia Moss of Petersburg and Connie Borelli of East Palestine were enjoying a 'girls night out' tailgating before the concert.
The women, both fans of the Zac Brown Band and country music in general, said it is nice to have the concert this close to home.
The tailgating crowd also included a large number of young adults.
Among them were friends Eric Barto and Jeff Davidson, both of Columbiana, Suzie Murcko of Mercer, Pa., and Rachel Bielecki of Cortland, who was looking forward to her first country music concert.
"We're here to have a good time with friends and hear good music," said Suzie.
7:20 p.m.
YOUNGSTOWN
The opening act has begun - and so has the rain - at tonight's Zac Brown Band concert. 
There are numerous lines to get into the stadium, with concert staff directing crowds to different entrances. While one line extends quite a ways down Fifth Avenue, it's moving quickly. 
To some people's disappointment, it's raining, but not heavily. 
The vibe around the stadium is festive, and tailgaters continue to wrap up their activities across the street from Stambaugh.
Jill Lisner of Boardman and Diane Wilcos of Struthers were among the people standing in line to get into the stadium. 
They said they frequently attend concerts and are excited to attend one in town. "I think it's a great opportunity," said Lisner. Normally, we go to a lot of country concerts, we have to drive an hour, hour and a half. This is right in our backyard."
"I don't even mind waiting in the line, because you're happy all these people came out," she said. 
6:30 p.m.
YOUNGSTOWN
Zac Brown Band and country music fans filled the sidewalk tables of restaurants along Federal Street in downtown Youngstown, eating and drinking before the concert at Youngstown State University's Stambaugh Stadium.
Among the downtown revelers are Tim and Jennifer Lewis-Aey, and Tim's cousin, Shelli Aey, all of Poland, who ate at V2 before walking up the hill to the concert.
Tim and Jennifer said that in addition to being Zac Brown Band fans, they also considered the concert and eating downtown a convenient, nice night out.
Tim said their experience will probably cause them to come to the central city more often before events such as football games.
5:25 p.m.
YOUNGSTOWN
People are getting excited about tonight's Zac Brown Band concert, hoping the rains hold off but not complaining about the cooler weather. Traffic is flowing smoothly into lots surrounding Stambaugh Stadium at Youngstown State University and the crowds are well behaved.
Concertgoers say they appreciate seeing such a big act locally and hope the event helps out Youngstown-area business.
Nearly 20,000 fans could pack the stadium tonight for the inaugural Y Live: The Youngstown Music Event.
Zac Brown Band, winner of three Grammys, has had a busy touring season including shows in recent months in the Cleveland and Pittsburgh markets.
The band has had 11 No. 1 Billboard Hot Country Songs including "Chicken Fried," "Free," and "Keep Me in Mind." Their latest album, "Welcome Home," was released in May.
Downtown restaurants and bars are expected to see an increase in business, particularly before the show, said Michael McGiffin, the city's director of downtown events and citywide special projects.
There are plenty of folks wearing cowboy boots.
4:50 p.m.
YOUNGSTOWN — People are piling in to the main Zac Brown Band tailgate lot – M70 on the Youngstown State University campus – and police tell The Vindicator they expect it to be full before long.
Fans from West Middlesex, Pa., and Boardman said everybody is having a good time – and everyone is hoping the weather holds out on a cloudy, cool evening.
The big sentiment: Fans are excited that the Y Live event has brought a major act to town at a venue that is easy to get into, saving a drive to Cleveland or Pittsburgh.
The doors to Stambaugh Stadium open at 5:30 p.m. The concert starts at 7 p.m. with two opening acts.
•••
2:30 p.m.
Tailgaters are getting ready for tonight's Zac Brown Band concert at Youngstown State University's Stambaugh Stadium.
At the M70 lot, you can already hear country music, smell food getting cooked and there are plenty of folks wearing cowboy boots.
Boardman High School seniors Clayton Wehr and Nicole Perez dressed in flannels for the inaugural Y Live concert event.
Watch Vindy.com for updates.
More like this from vindy.com