YSU kicks off new school year with Welcome Week events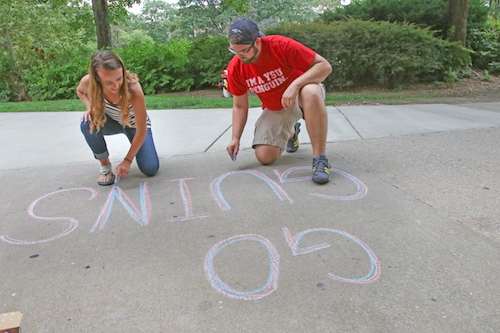 ---
YOUNGSTOWN
Youngstown State University welcomed a large freshman class of 2,301 students – up nearly 5 percent from last year and the fourth largest in the past 26 years – to campus Wednesday with a number of Welcome Week events to kick off the 2017-18 school year.
Sophomore student Marti Hergenrother said the events seem to be bigger and better than last year's.
"It's just really exciting," said freshman student Isabelle McCloskey of Poland.
McCloskey said she was sitting outside Kilcawley Center when she learned through the YSU mobile app that there was a party, literally behind her.
She was referring to the Kilcawley Center Block Party equipped with free food, swag bags for the first 500 students, music from DJ Kickdrum and more.
For her first day as a whole, freshman Erin Bodine of Columbiana said she felt an all-around positive vibe.
"I'm just having a good time for my first day of classes," she said.
At another popular stations, students were learning the value of having a good time with PNC Bank representatives.
Available was information about financial literacy classes and opening student accounts that will help make students successful.
"The faster these students can learn to be financially literate, the more hassle it can save them later," said a PNC representative. "It's about making sure everyone is meeting their financial goals and that we are promoting a healthy financial well-being."
A financial well-being isn't all that is healthy with the incoming freshmen.
The freshman class is bringing in record-high ACT scores and grade-point averages.
The average freshman ACT score is 21.76, up from last year's 21.75, 21.19 in 2015 and the 21.09 in 2014.
In addition, the average incoming freshman GPA is 3.3. This average is above last year's 3.24, 3.14 in 2015, 3.12 in 2014 and 2.97 in 2013.
Another increase is at the university resident halls.
All university residence halls, as well at the YSU Courtyard Apartments, are at capacity with nearly 1,300 students. In addition, the new privately owned University Edge apartments on Rayen Avenue are filled.
YSU senior student Rebecca Potkanowicz, YSU Woo Crew member, said the increases are because YSU is getting a reputation as a great college.
"It's so important to get everyone here and get them excited about being at YSU," she said. "Welcome Week just really jump starts the year. It's nice to be able to come here and have fun rather than just start and go straight to classes. We get to communicate with one another and talk about how much we love YSU."
Various other events included Golf Kart Karaoke - Zac Brown Band Edition all day at Campus Core, #MaagFamous: Your Path to Stardom Starts Here, which had free nachos at Maag Library, First Day of School Photos in the Chestnut Room in Kilcawley, Table of Plenty cookout in front of the YSU Newman Center, a Star Studded Silent Disco wireless dance party in Kilcawley Center and a Hip Hop Dance Clinic at the Andrews Student Recreation and Wellness Center.
More like this from vindy.com