Poland's 'Officer TJ' to retire after 33-year career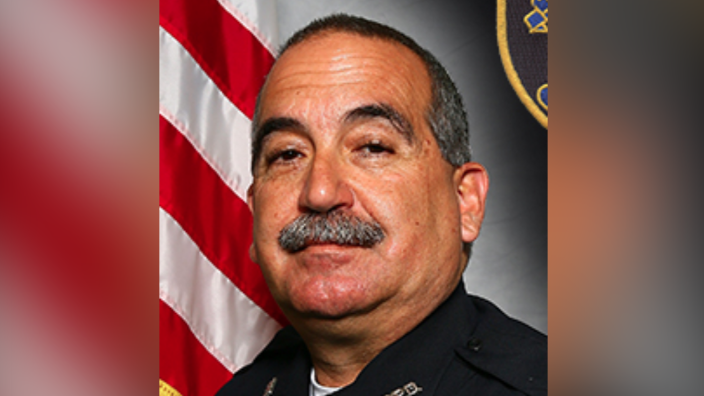 ---
POLAND
If you were a fifth-grader in Poland schools sometime in the last 20 years, chances are you know township Patrolman Tom Johnson.
You probably know him simply as "Officer T.J."
That's what Johnson has encouraged kids to call him during the 20 years he's led the D.A.R.E. (Drug Abuse Resistance Education) program, a job that put him in the schools 17 weeks each year.
Now, after 33 years with the township police department, Johnson plans to retire at the end of this year. Although plans for the D.A.R.E. program after this year have yet to be finalized, Johnson said he would consider coming back and teaching it after he retires.
It's that kind of commitment to the job that his colleagues will miss.
"He fixes our computers. He fixes cars. He changes headlights," said township Police Chief Brian Goodin,
The two have worked together for much of their careers. Johnson took over the D.A.R.E. program from Goodin in 1997.
Goodin noted that while working in schools is not for every police officer, Johnson is "one of those guys that fit the bill."
"This was something he always had a passion for," he said.
"I think working with the kids two days a week kind of centers me," said Johnson.
He said that while it's not why he does the job, he enjoys the reputation it's given him. Current and long-graduated students recognize him out in the community.
He recalled, for example, the time he was grabbing dinner and a beer at Inner Circle, and a mother and her son stopped to talk to him. The boy, who knew Johnson from D.A.R.E., wanted to know why Johnson was drinking a beer.
"It changed my instruction. I tell them, 'Look, I'm a few years older than 21. I'm allowed to have a beer. It's a matter of if you abuse it,'" he said.
Those are the kinds of topics Johnson covers in D.A.R.E., which aims to prevent substance use. Johnson said that while he covers topics such as alcohol, tobacco and marijuana, he also talks to kids about decision-making.
"It's based on choices. How to pick your friends," he said. "Peer pressure is a big lesson."
He acknowledged that the department in recent years has looked at the effectiveness of the program in terms of preventing substance use, but to him, "If one of them doesn't partake in that aspect of drug life, it's worth it."
The department also sees it as having another benefit: Introducing kids to police officers.
"They see a cop not as a bad guy, but as somebody fun," said Johnson. "It does open them up to a relationship with the police."
"It's a way for the officers to be able to talk to kids about these things," said Goodin. "It's how they remember the police, through the D.A.R.E. program."
That aspect of the program seems to have worked.
"Wherever I'm at, I hear, 'Officer T.J.,'" Johnson said.
More like this from vindy.com