Warren officials call on citizens to help reduce violence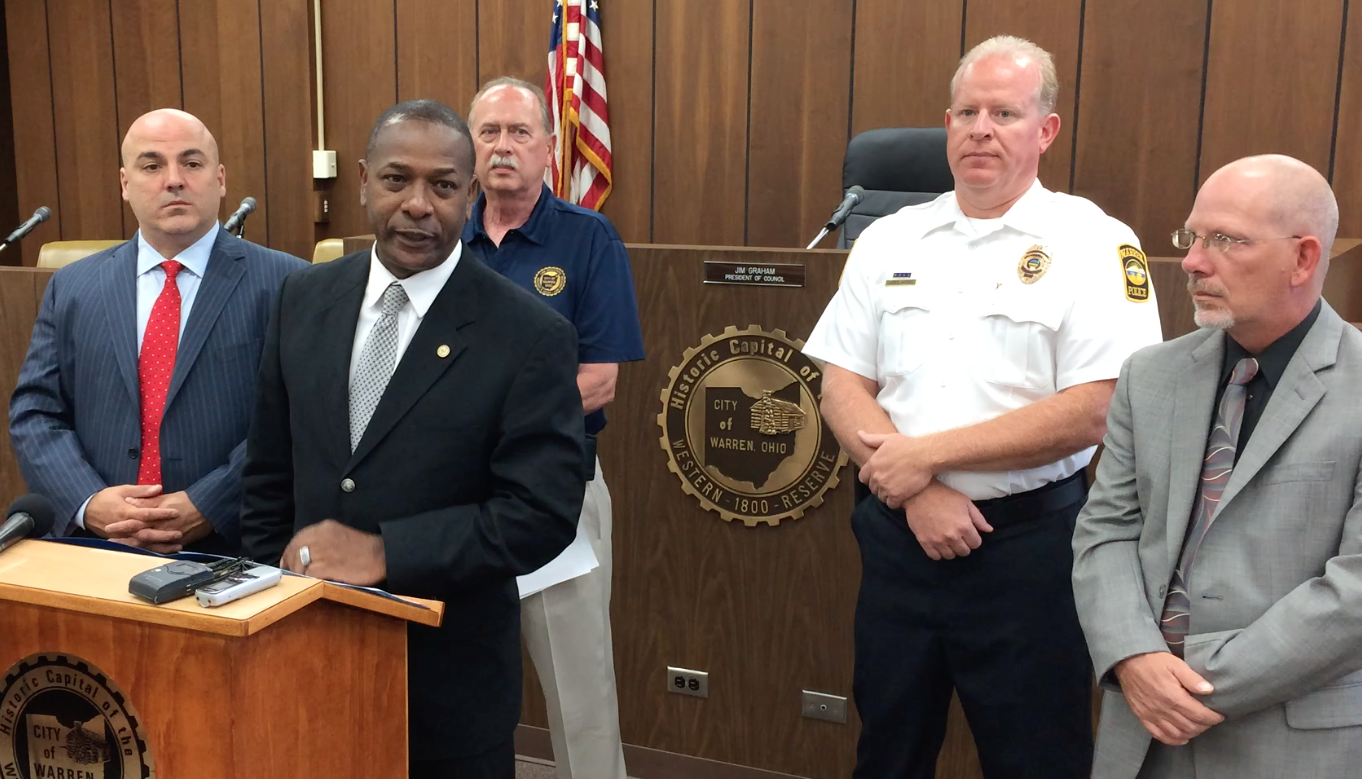 ---
By Ed Runyan
WARREN
Warren Mayor Doug Franklin on Tuesday addressed "recent spikes in violence" that have left several people dead.
One man was seriously wounded Tuesday morning.
Franklin called an afternoon news conference in city council chambers to express the city's resolve to arrest the individuals responsible for two weekend apparent homicides, other homicides that have happened in Warren, and a shooting at just after 9 a.m. Tuesday on South Feederle Drive Southeast that caused a lockdown at nearby Warren John F. Kennedy High School and the Willard K-8 school.
Franklin said he has been to several recent crime scenes, as he was Tuesday morning, and he has spoken to residents near the violence.
"I can tell you their primary concern is that of the children and the young people and the elderly in the community who live in these neighborhoods," he said.
"They're not interested in excuses or reasons. They're interested in results, and we're going to do everything possible ... to make sure they get the results they deserve and paid for."
Police identified the shooting victim from Tuesday morning Dondell L. Warfield of Warren, 44, who suffered serious injuries when he was shot at least three times, at least one of those times in the face.
A man standing near the shooting scene afterward expressed concern because the shooting occurred in an area where students wait for the bus. Tuesday was the first day of school in Warren.
Police Chief Eric Merkel praised the citizens in the area of the shooting for providing police with information about the suspect, Daniel L. Chipps, 32, to enable police to file a felonious assault charge against him only a couple of hours after the shooting.
Chipps lives at an apartment on South Feederle. Police believe he shot Warfield in the street in front of his apartment in a dispute over stolen items.
Warren Municipal Court issued a warrant for Chipps' arrest, but police said late Tuesday they had not located him.
Merkel said the incident is "a shining example of how we would like the community and police to relate to each other when it comes to solving crime."
He said "the opposite of that is what we had down at Fairview Gardens" apartments on Saturday night. "I believe there were dozens of witnesses out there, close to 80 rounds were fired, and we got very little cooperation. We need the public's help to solve crime, bottom line."
Heaven L. Townsend, 21, of Hillman Way in Youngstown was found dead in the grass on Duke Street Southeast near the Fairview Gardens office. Police have made no arrests.
On Sunday, police found the body of William L. Williams, 19, of Freeman Street Northwest against a fence in a field in the 2400 block of Northwest Boulevard Northwest.
Police say both deaths appear to be homicides, but autopsies have not been completed to confirm that.
If ruled homicides, they will be Nos. 7 and 8 for the year. Six have taken place since July 10. Warren had four homicides in all of 2016.
"Most of our citizens are good, law-abiding citizens, and they respect the law and respect law enforcement authority," Franklin said.
The people responsible for recent violence are "a group of individuals who engage activities, criminal most of the time," Franklin said. "But our resolve is to get them off the streets and keep all of our good citizens safe in the city of Warren."
More like this from vindy.com