Zac Brown fans advised to use parking decks at YSU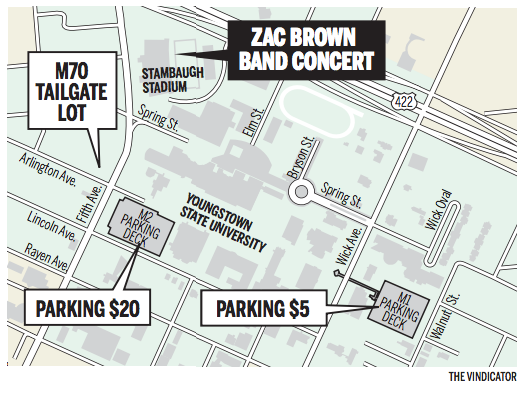 ---
and GUY D'ASTOLFO
YOUNGSTOWN
When it comes to the large crowds that will be at Stambaugh Stadium for Thursday's Zac Brown Band concert, the advice is: Hit the decks.
That means head for the parking decks on the Youngstown State University campus, said Danny O'Connell, YSU's director of support services.
The Fifth Avenue deck, on the corner of Fifth and Lincoln avenues, can hold 1,260 vehicles. Like the surface lots near Stambaugh, the home of YSU's football team, the cost to park at the Fifth Avenue deck is $20.
If you don't mind a little walk, O'Connell suggests the Wick Avenue parking deck, which can be accessed from Walnut Street because Wick is still closed to vehicular traffic as it's still under construction. That lot holds 2,120 vehicles. The GPS address is 100 Wade St.
And it's only $5 to park there, O'Connell said.
"That's a quick option for people to park and it shouldn't be crowded," he said.
Another piece of advice from O'Connell: "The earlier you get here, the easier it will be to park."
YSU officials will park people starting in the M72, M71 and the new M66 lots on and near Grant and Arlington streets first for those coming east on Fifth and Ford avenues and west on Belmont Avenue, he said. Those lots hold about 300 spaces.
Once they're filled, motorists will be directed to the Wick Avenue deck – unless they decide to park there first, particularly those coming from downtown on Fifth Avenue – and then to lots on Rayen Avenue, O'Connell said.
"As people come down, we'll be directing people south as each lot [and the Fifth Avenue deck] fills up," he said.
Traffic will be greater because it is on a Thursday, and not a Saturday, like a football game. Also, it will be a regular day of class at YSU.
About 18,000 tickets are being sold for the concert, ranging from $29.50 to $95.50 via Ticketmaster. There were about 2,000 tickets left as of late Tuesday.
"We're very happy with sales for the event," said Eric Ryan, chief executive officer of JAC Live, which is co-promoting the event with the Muransky Companies. "Tickets have sold great. We hope we can reach 17,000, 18,000 by the time of the concert."
YSU students are being told to park their vehicles in lots and parking structures on the east side of the campus that day. The university will offer a free shuttle bus service from the rear entrance of the Wick Avenue parking deck to Lincoln Avenue.
The university parking lots near the stadium will be open to concertgoers after 2 p.m. Signage will be put up on streets to guide drivers to the parking lots, according to a press release from YSU.
Tailgate lot M70 off Fifth Avenue, which holds 535 vehicles, is sold out. It will open at 2 p.m. the day of the concert. If you want to tailgate and don't have a space reserved at M70, Ryan said people can still come to that lot and do so.
Stadium doors open at 5:30 p.m., with the concert set for 7 p.m. There are two opening acts – Darrell Scott and Midland – before Zac Brown Band plays.
"We'll get a 2 p.m. rush, then one at 5 p.m. before the doors open and then another one just before the concert starts," O'Connell said.
Downtown will be business as usual, said Michael McGiffin, downtown events director. On-street parking will be free after 5 p.m., as will parking at city-owned lots. Privately-owned surface lots are expected to charge event rates, said McGiffin.
"We know we can accommodate this number of people in our downtown and campus area," said McGiffin. He cited past events that attracted similarly large crowds, including March 22, 2016, when Elton John and ZZ Top played concerts at the same time at Covelli Centre and Stambaugh Auditorium, respectively.
"Some people will park downtown, but downtown is operating as overflow parking for the event," McGiffin said. "Most people will park in the YSU lots. There will be a spot for everybody, but downtown will be a place where a few thousand people will end up parking and walk up the hill to the concert."
Concertgoers should be aware of the restrictions at the stadium, according to JAC Live. None of the following items will be permitted inside the stadium for the concert: food, beverages, backpacks, bags, coolers, fanny packs, containers of any size, video cameras and professional cameras.
Patrons are also being encouraged to bring cash to the concert, in order to minimize the wait at the food and beverage stands. Credit cards will be accepted at select stands.
More like this from vindy.com