Driver gets 9 years for killing Cortland woman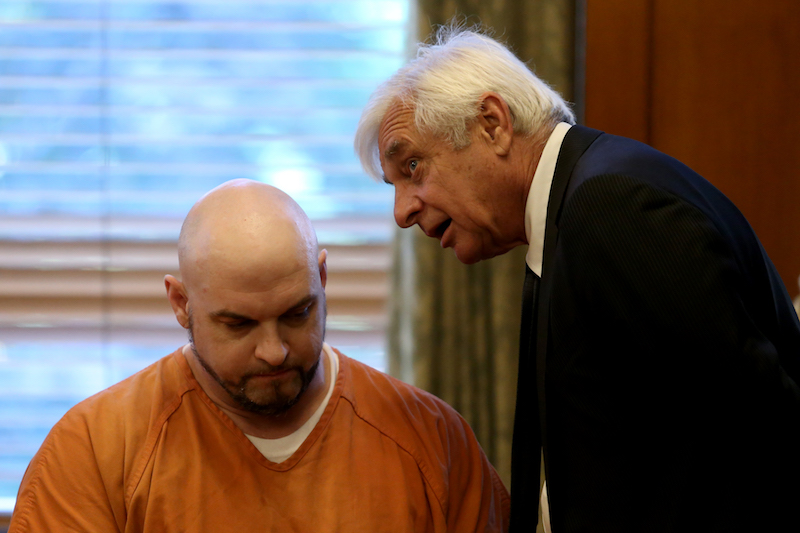 ---
Family says man who struck and killed young woman didn't show remorse
By Ed Runyan
WARREN
The short apology Russell Lauer III gave during his sentencing hearing Monday for killing Brittany Szwedko, 27, with his car was not nearly enough compared to the pain so many people experienced, her family and others say.
Szwedko was running or walking alongside Ridge Road near Cortland on Feb. 27, 2016, when an intoxicated Lauer drove his car off the road and hit her.
Lauer was sentenced to nine years in prison for aggravated vehicular homicide, driving under the influence of alcohol and drugs, failing to stop after an accident and failing to drive in marked lanes. Lauer, 44, lived on state Route 5 in Cortland.
One person whose life was changed was Brittany's mother, Mary Kay Szwedko. When she went to the hospital after finding out about the accident, she found her daughter's face unrecognizable, swollen and bleeding, "every bone shattered, watching her have seizure after seizure," she said.
Doctors removed the breathing tube two days later.
"Seeing her die is something no parent should ever have to experience," Mary Kay said.
Mary Kay said she didn't believe Lauer showed any real remorse for his actions and got light treatment for previous offenses. Szwedko family members were pleased that Judge Peter Kontos of Trumbull County Common Pleas Court gave Lauer one year more than prosecutors recommended.
Brittany's sister, Jayna, also spoke at the hearing, talking about the feelings she had when she saw her sister at the hospital.
"I broke down crying and felt like there was a giant hole in my heart, seeing her like that," Jayna said. "It hit me I would never see her smile or hear her laugh again," Jayna said.
"Losing Brittany was losing my best friend. It was losing my running buddy who crossed the finish line while holding my hand at our first marathon," she said.
Brittany, a Lakeview High School graduate, worked in the public-relations department at the Warren-Trumbull County Public Library and was an avid runner.
"She was the rock of our family when my father suddenly passed away five years ago. She was always the light of all family gatherings and kept everyone laughing," Jayna said.
Also devastated by the loss of Brittany are R.J. and Faith Bryant, the couple driving behind Lauer's car the day of the accident.
Faith said seeing someone walk down the road now makes her fearful of something horrible happening again, she said in a witness statement.
"And I didn't experience the worst of the images. My husband walked to Brittany and he saw her up close," she said.
R.J. flagged down another couple, who stayed with Brittany while R.J., Faith and their daughter followed Lauer and talked to police on a cellphone.
R.J. and Faith followed Lauer in their car and eventually blocked in Lauer at an intersection. R.J. yelled at Lauer, telling him he had just hit someone. "Yeah, I know. Move," Lauer reportedly told R.J.
R.J. even struck Lauer multiple times when Lauer attempted to drive off again.
The incident has left R.J. in "shock," Faith said. "He stayed in bed for three weeks," Faith said. He left the house only three times. "Because of Mr. Lauer's recklessness, he forever changed my husband's life." He has been diagnosed with severe post-traumatic stress disorder, she said.
Lauer's only words before sentencing were: "I'd like to apologize to the Szwedko family, your honor." Lauer also referenced having said other things in a letter to the judge.
Police reports say Lauer was swerving on the road before he struck Szwedko in the early afternoon. Lauer's blood-alcohol level was measured at just below the 0.08 limit for intoxication under Ohio law, but he had an illegal amount of OxyContin in his system.
Judge Kontos said Lauer's prior record is "troubling," with a drunken-driving conviction in 2006 and charge of using weapons while intoxicated in 2012. He had another drunken-driving conviction in 2014.
"You have a history of at least being impaired while driving, and none of those things has seemed to have changed what you ended up doing in this case," the judge said.
The judge gave Lauer eight years on the aggravated vehicular homicide charge, a lifetime driver's license suspension and one year on failure to stop after an accident.
The judge said he was adding an additional year onto the recommendation of the prosecutor because of Lauer's prior criminal history.
More than 300 people turned out for a 5K run in her memory last year, the Brittany Szwedko Memorial 5K Run and Dog Walk. It will take place again this year – at 9 a.m. Sept. 10 at Austintown Township Park on Kirk Road. But this will be the last one, Mary Kay said, because the family has reached the scholarship goal it set.
"We just want everyone to come celebrate now that we can move on and heal because Brittany would not want us to sad. She would want us to celebrate her life," Mary Kay said. A scholarship will be awarded annually starting in the spring.
More like this from vindy.com