Escalating student success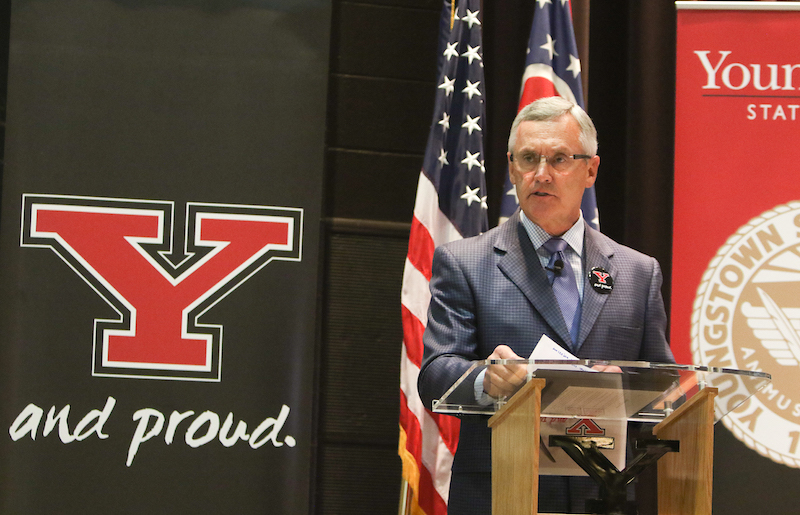 ---
YOUNGSTOWN
The numbers are up for many of the facets that make up student success at Youngstown State University, said YSU President Jim Tressel at his State of the University address.
"We just have extraordinary work by all of you here at YSU," Tressel said Monday morning.
The average ACT score of incoming freshman students is projected to have improved from 19.75 in 2010 to 21.78 in 2017. The average score was 21.77 in 2016. It has been steadily climbing over the last seven years.
Grade-point averages of incoming freshman also are projected to be up, from 2.81 in 2010 to 3.3 in 2017. The average incoming GPA in 2016 was 3.24.
The Honors College has a projected growth to 920 students for 2017, which would be up from 2016's 701 students.
In 2010, 357 students were enrolled in the Honors College.
In addition, YSU graduated its second-largest graduating class for the 2016-17 year – 2,334 students.
Enrollment for international students is up from 275 to 456 students – what Tressel said is the largest in YSU history.
Despite strides in student success, Tressel said the campus is not without challenges and opportunities for growth.
"We have lots of challenges, but that's when our strength grows," Tressel said.
An opportunity for growth Tressel outlined was the RISE – Respect and well-being, Inclusion and awareness, Spirit and tradition, and Excellence through engagement – initiative.
The idea is to do something almost each day of the workweek to create a "culture of community," Tressel said.
He laid out guidelines for promoting this culture.
Monday: Think about someone who made a difference in your life.
Tuesday: Go the extra mile for one person – "Open a door for someone," he said.
Thursday: YSU is working on a platform that will allow people to send in pictures of proud Penguins performing community service acts.
Friday: Celebrate Y-Day by wearing YSU gear proudly.
The growth cannot happen, however, without collaboration, Tressel said.
"We can't do it unless we do it together," he said.
More like this from vindy.com