#SOLARECLIPSE2017 | The Valley looks to the skies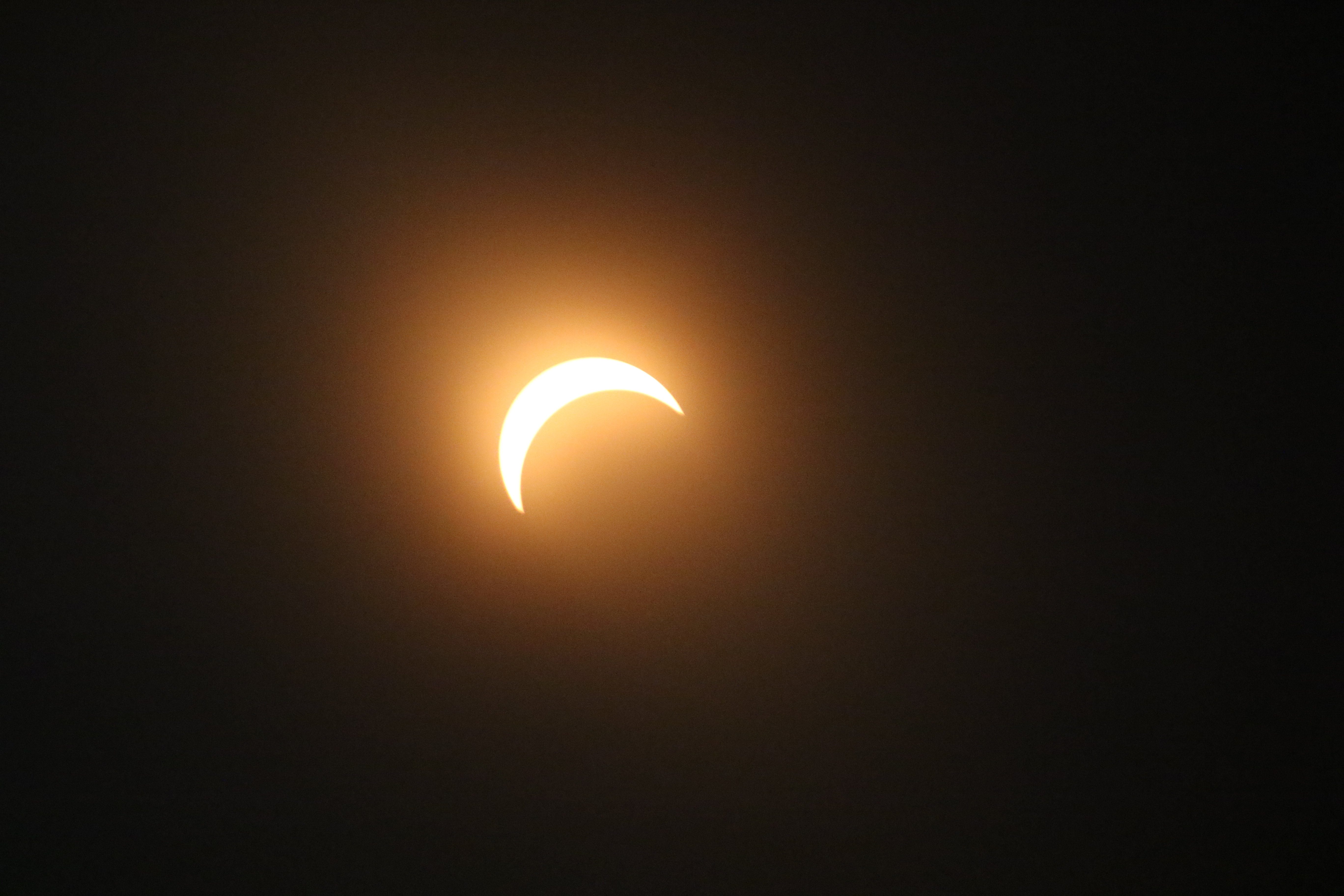 ---
The Vindicator is at several spots watching people watch the eclipse today. Freshmen at Youngstown State University were issued eclipse-viewing glasses. Thousands of spectators have shown up at Mill Creek MetroParks Farm. And there is a viewing event at Spartan Stadium.
Follow our coverage here on Vindy.com, on our Facebook page and on our Twitter feed, @Vindicator where we will use the hashtag #SOLARECLIPSE2017 throughout the event.
•••
BOARDMAN — Brian Hoffman came to Boardman Spartan Stadium to watch the eclipse with his two daughters and his son.
"We've been interested in astronomy," Hoffman said. "It's an event you don't want to miss."
His daughter Sofia, an eighth-grader in Boardman schools, said she didn't know what to expect.
"It's really cool," she said.
Justine Burkey, who teaches chemistry at Boardman, said the best part is that it's a community event and so many people came out.
The organizers acquired 200 pairs of glasses, but people continued to filter in after the glasses were gone. Many people were sharing glasses with those nearby.
"This is not something you see everyday," Burkey said.
Hoffman added that events like this are why he lives in Boardman.
"This is great," he said. "[Community events like this are] one of the main reasons we love Boardman schools."
When Boardman teachers learned the eclipse would be visible at the high school stadium, they thought it was too good an opportunity to pass up.
Even though school isn't in session, sixth-grade English teacher Liz Holter said they wanted to put together an event for the students.
About 300 people gathered at Boardman Spartan Stadium to view the eclipse.
"Kids study space all through school," Holter said. "They're living it today."
•••
CANFIELD — Thousands of people are at the MetroParks Farm for the viewing event hosted by the park and YSU's Ward Beecher Planetarium.
Planetarium staff are helping people look through telescopes with the necessary eclipse filters that make them safe for viewing.
The Harding family of Boardman heard about the event and decided to come for some fun family time, said Gina Harding. She took her two nieces and two kids through the telescope line while her sister-in-law waited in line for eclipse glasses.
"I thought it would be further away, but it was right there in your face," she said of viewing the eclipse through the telescope.
"It looked like a big orange cookies with a bite taken out of it," her 8-year-old son, Gavin, said.
The Mauch family of Canfield went through the telescope line a few times to get the full experience.
"It's just very cool-looking. It's fascinating," said Cheryl Mauch.
Curt Spivey of the Planetarium explained that viewing the eclipse via a telescope versus glasses provides a different experience.
"This is much more magnified, so we can actually see the sun spots and the details on the surface," he said.
Asked by a viewer about why people are cautioned to protect their eyes from the sun today, but not other days, he said, "You should never, ever look at the sun, but today is the only day people try to look at the sun."
•••
YOUNGSTOWN — The sun has been about 25 percent eclipsed as viewed in downtown Youngstown at about 1:30 p.m. The full effect of the eclipse here is expected to be at 2:33 p.m. when about 80 percent of the sun will be blotted out by the moon.
•••
YOUNGSTOWN — More than 50 students have gathered by Ward Beecher Hall at Youngstown State University to see the solar eclipse during freshman student orientation.
The Physics Department will be lending glasses for people to view the eclipse.
Michelle Zackasee, YSU immunology professor, said she's excited to share the learning experience with others.

"It's historical," she said.
•••
YOUNGSTOWN — What can you do with an empty cereal box, some tin foil and a piece of paper?
Watch the solar eclipse, that's what.
Kids and parents are building pinhole viewers at OH WOW! Children's Center for Science & Technology for today's solar eclipse.
"When you look at the sun it's almost like looking at a light through a magnifying glass," said OH WOW! edutainer of events and programming Kim Urig.
With the lack of availability for solar eclipse glasses, a pinhole viewer is a safe and inexpensive alternative to looking directly at the sun.
OH WOW! will have a viewer experience of the eclipse outside the museum in the plaza on Market Street. Instructors have made larger pinhole viewers out of cardboard tubes and will explain why the light the sun gives off is rolling across the ground at the time of eclipse.
"We just had an empty cereal box laying around, so we thought we'd put it to use," said Joni Mitzel, whose Cheerios box.
The pinhole viewer is made by cutting two holes at the top opening of a rectangular box. One hole is covered with a piece of tin foil, and the other is left open for looking through.
A small hole is made in the tin foil to project light. The bottom of the box is inlaid with paper to make the light passing through the pinhole more visible.
OH WOW! is broadcasting NASA's eclipse livestream as well.
•••
More like this from vindy.com