---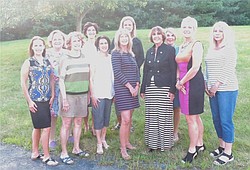 CONTRIBUTED PHOTO

Photo
Above front, from left, are Stephanie Champlin, Vicki Palotta, Luann James, Barb Alexander, Phyllis Bacon, Karen Segesto and Fran Alexander. In back, from left, are Susan Berny, Dr. Sergul Erzurum, Gayle Kelly and Lea Moody. They are helping to plan the second annual Eye Ball fundraiser set for Sept. 30 at the DeYor Performing Arts Center.
YOUNGSTOWN
Sight for All United Foundation will host its second annual Eye Ball black-tie fundraiser at 5:30 p.m. Sept. 30 at the DeYor Performing Arts Center, 260 W. Federal St. Live performer will be Scott MacIntyre, "American Idol" finalist, who has been blind from birth and is a two-time kidney transplant recipient.
Sight for All United was founded by Dr. Sergul Erzurum and Karen Segesto. Dr. Erzurum is professor of surgery at Northeastern Ohio Medical University and vice chairman of Pediatric Disease Investigator Group within the National Institute of Health. Segesto is the senior client advisor, VP PNC Wealth Management.
There will be a live auction including the new SMILE Procedure by Dr. Phillip Roholt, advanced laser procedure to decrease dependence on glasses; one week at a beach-front condominium in Clearwater, Fla.; Handel's Homemade Ice Cream party for 100 guests; Browns football package and more.
Committee members for the event are Sue Berny, Barbara Alexander, Fran Alexander, Phyllis Bacon, Stephanie Champlin, Julie Costas, Virginia Gerberry, Luann James, Gayle Kelly, Dominic Mancini, Dr. Maureen Matthews, Lea Moody, Vickie Pallotta, Cathy Progar and Peppe Smith.