ECLIPSE USA | Moon blots the sun out of the sky in historic US eclipse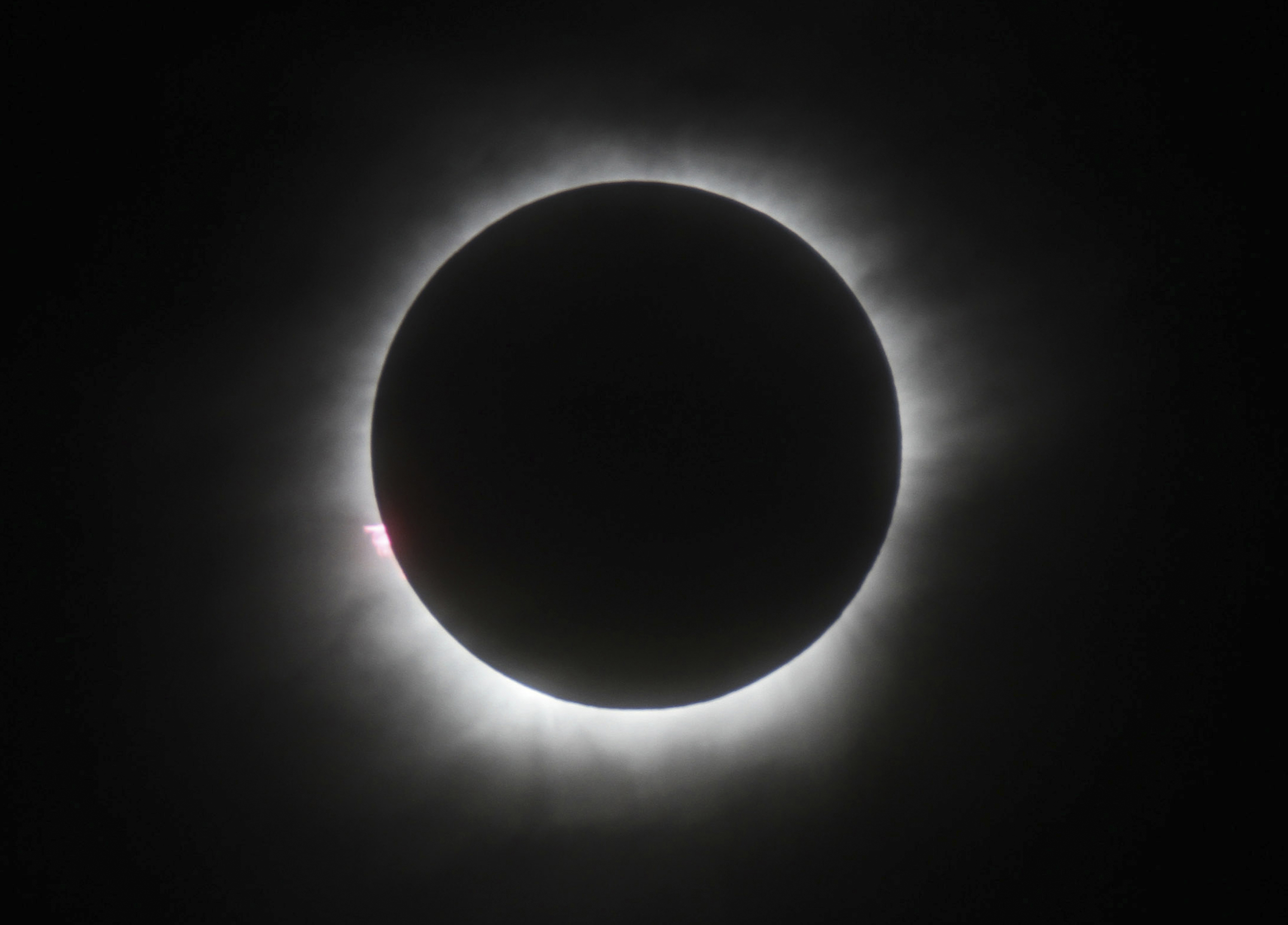 ---
By MARCIA DUNN
AP Aerospace Writer
Millions of Americans gazed in wonder through telescopes, cameras and disposable protective glasses Monday as the moon blotted out the sun in the first full-blown solar eclipse to sweep the U.S. from coast to coast in nearly a century.
"It's really, really, really, really awesome," said 9-year-old Cami Smith as she watched the fully eclipsed sun from a gravel lane near her grandfather's home at Beverly Beach, Oregon.
The temperature dropped, birds quieted down, crickets chirped and the stars came out in the middle of the day as the line of darkness raced across the continent and Americans oohed, aahed and shouted at the sight.
In Boise, Idaho, where the sun was more than 99 percent blocked, people clapped and whooped, and the street lights came on briefly, while in Nashville, Tennessee, people craned their necks at the sky and knocked back longneck beers at Nudie's Honky Tonk bar.
It promised to be the most observed and photographed eclipse in history, with many Americans staking out prime viewing spots and settling onto blankets and lawn chairs to watch, especially along the path of totality — the line of deep shadow created when the sun is completely obscured except for the delicate ring of light known as the corona.
The shadow — a corridor just 60 to 70 miles (96 to 113 kilometers) wide — came ashore in Oregon and then began traveling diagonally across the heartland to South Carolina, with darkness from the totality lasting only around two to three minutes in any one spot.
The rest of North America was treated to a partial eclipse, as were Central American and the top of South America.
"We're all part of something celestial — so much bigger than us, so mysterious," said Ed Sullivan, who traveled from Richmond, Virginia, to Glendo Reservoir in Wyoming. "There is so much to ponder I don't even know what questions to ask, but I enjoy just feeling the mystery."
With 200 million people within a day's drive from the path of totality, towns and parks saw big crowds. Skies were clear along most of the route, to the relief of those who feared cloud cover would spoil this once-in-a-lifetime moment.
"The show has just begun, people! What a gorgeous day! Isn't this great, people?" Jim Todd, a director at the Oregon Museum of Science and Industry, told a crowd of thousands at an amphitheater in Salem, Oregon, as the moon took an ever-bigger bite out of the sun.
NASA reported 4.4 million people were watching its TV coverage midway through the eclipse, the biggest livestream event in the space agency's history.
"It's like nothing else you will ever see or ever do," said veteran eclipse-watcher Mike O'Leary of San Diego, who set up his camera along with among hundreds of other amateur astronomers gathered in Casper, Wyoming. "It can be religious. It makes you feel insignificant, like you're just a speck in the whole scheme of things."
More like this from vindy.com