Published: Sun, August 20, 2017 @ 12:10 a.m.
GGOV Day Two Qualifier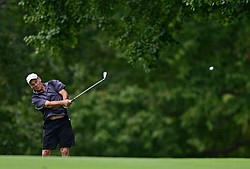 Gallery
Rust's hole-in-one, Karzmer's 64 are highlights of Day 2
By Greg Gulas
As Jeff Rust watched his tee -shot sail six yards beyond the pin on No. 16 at Tippecanoe Country Club, little did he know it would curl back and roll into the cup for the Farmers National Bank Greatest Golfer of the Valley's second hole-in-one.
Photo Gallery: GGOV Day Two Qualifier
That was among many spectacles in a super Saturday of golf.
After shooting 70 in Friday's opening round at Mill Creek, Greatest veteran Jonah Karzmer knew he would need a special round in order to keep pace with Men's Open leader Brandon Pluchinsky.
All he did was go out on Saturday and author a lights-out 64 at Oak Tree Country Club, which was one shot off the course record. He will take a two-stroke lead over Pluchinsky into the final round.
Brothers Dylan and Hunter Todd — relative newcomers to the game — continue to set the pace in their respective divisions. Even Mother Nature got into the act with some blustery, but brief, storms over two courses.
Second-round play concluded Saturday with action taking place at Avalon Golf and Country Club, Oak Tree, Youngtown Country Club and Tippecanoe Country Club.
Today's finals begin with the first group teeing off at 8:52 a.m. at The Lake Club.
Rust's home course is The Links at Firestone Farms and he is competing in the Men's 13-16 division.
"My wife, Bri, gave me a good-luck kiss as I was walking out the door and it worked," Rust said. "I am going to need one every time now before I head out to golf."
He added that the feeling when registering his first ever ace was somewhat surreal.
"I'm in the 13-16 handicap division and don't consider myself special by any means, but this is an absolutely unbelievable feeling. You would have thought that there would have been more holes-in-one over the years," he said. "There's 306 golfers competing this year and if you take eight years for the tournament, that's well over 2,000 other golfers, so to be able to say that I was the second ever to accomplish that feat is really something special."
He used a 50-degree wedge to accomplish the feat.
"After the ball spun back, I watched it the entire way into the cup and then went berserk," Rust said. "The guys behind me stopped and looked and the tee box in front of me looked on as well. I was just running around in a circle and yelling. I cannot tell you how excited I was."
Rust (85-83—168) is in fourth place behind Hunter Todd.
Karzmer on the other hand, knows something about holes-in-one and low rounds. He has nine aces to his credit and five combined rounds of eight-under 62 or nine-under 63 dotting his resume.
He is the new Men's Open leader (70-64—134), two shots ahead of Pluchinsky (66-70—136) and six strokes ahead of Scotty Jones (68-72—140).
With a 3-year-old and 3-month-old at home, sleep and rest isn't much of an option.
"I don't know if I had a good night's sleep, I just had enough," Karzmer said. "Today, I felt like I wanted to be aggressive at the start and birdied both my first and fourth holes to set the pace. I had hoped to be at 3- or 4-under in order to get into the red and be within striking distance of Brandon. But once I got it to 5-under, I just wanted to put it on the steering wheel so I wouldn't screw it up. Finishing birdie-birdie was nice."
When informed of Rust's ace, he had a congratulatory message.
"It's the best, luckiest shot in golf so congratulations to Jeff," Karzmer said. "I've seen some pretty holes-in-one and I've seen some ugly ones. So you just enjoy the moment. You need to hit a good shot and just be lucky."
Dylan Todd (Kennsington Golf Club and Grille) shot a 79 Saturday at Avalon Lakes and sits atop the Men's 5-8 division by two strokes over Vinny Gala (78-79—157) of Old Dutch Golf Course. Brother Hunter (85-79—164) holds a one stroke lead over Corey Susany (79-86, 165) in the Men's 13-16 division.
They joined brother Griffin (he was on the winning scramble team) in this year's Greatest and each has a mere three years of golf experience.
"We don't play in a league, and as one of eight siblings, we usually have a friendly competition amongst ourselves," Hunter said. "We try to play whenever the mood strikes or have the opportunity to do so."
Hunter finished sixth in last year's Greatest, but the goal has definitely changed this year.
"The goal is always to win, but we kid one another that it will be me that brings home the trophy," Hunter said. "This is only the second time that I've played the Tippecanoe Country Club course and had a nice overall round. It might be a friendly competition within our household, but the whole idea remains to have fun while meeting new people and making new friends."
Brother Dylan credits both Griffin and another older brother Patrick for aiding in both his and Hunter's quick development.
"Hunter and I just kind of picked the game up from Griffin, and Patrick also played. So my first time in the Greatest has been a lot of fun," said the former Canfield High School golfer. "I've never won a golf tournament and I'm the one usually chasing the field. It feels different being the hunted as opposed to being the hunter."
His driver hasn't been used much the first two days.
"I've kept my driver in the bag for the most part, using it just three times overall and only once today," Dylan said. "I've depended on my irons. Today, Avalon Lakes played roughly 7,000 yards and most golfers were going driver, 3-wood. I went 3-wood and 4-iron and that made it nice for me."
A total of 99 golfers remain for today's final round with Katie Rogner (79-75—154) holding a three-stroke lead over Angela Molaskey (79-78—157) in the Ladies Open division.
In Men's 9-12, Peter Margiotta (76-81—157) is a shot ahead of Mark Standohar (81-77—158) while Don Ferko Jr. (75-80—155) holds an eight-shot lead over Rick Istnick (81-82—163) in Seniors 10-plus action.
In Ladies 9-plus, Toni Notaro (77-72—149) is the leader while Frank Santisi (71-73—144) holds a one stroke lead over Robert Gintert (71-74—145) in Seniors Open play.
Rounding out the day's action, Bob Leonard (72-70—142) has a comfortable six-stroke lead over George Kelly (72-76—148) in Super Seniors while in Men's 17-plus, Jay Moore (82-79—161) holds a one-shot lead over Paul Marovich (80-82—162).