As summer wanes, it's back to school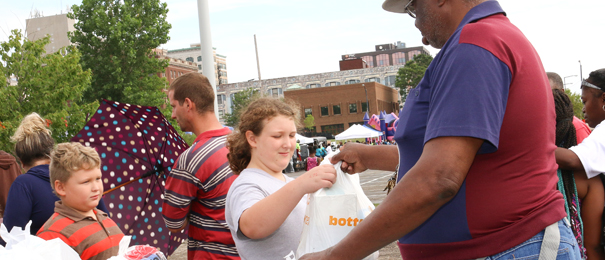 ---
RELATED: • Here's what's happening at Valley schools this year
* Mohip looks to 'climte of trust' for students
Staff report
YOUNGSTOWN
Students who will attend Youngstown City Schools will experience many changes for the upcoming 2017-18 school year.
CEO Krish Mohip expressed excitement. "We're looking forward to a successful school year," he said.
The district will operate nine pre-kindergarten through eighth-grade neighborhood schools as part of Mohip's schools reconfiguration.
East and Chaney campus buildings will operate as ninth- through 12th-grade high schools.
Administratively, Joe Meranto, former Choffin Career and Technical Center director, replaced Stephen Stohla as district superintendent.
All of the administrators are hired for 12-month contracts.
Robert Kearns, who served in the mid-2000s as principal and assistant principal of P. Ross Berry Middle School, Odyssey School of Possibilities and Williamson Elementary School, returns as principal of Harding pre-kindergarten through eighth-grade school. Kearns has served as principal of Talmadge Middle School since 2009 and worked as an assistant principal there beginning in 2008.
Jennifer Walker, who was an English teacher at East High School and Ohio's Teacher of the Year, is returning to YCSD as principal at Wilson pre-K-8. Walker left the district to join the Mahoning County Educational Service Center and then worked in the Warren City Schools.
Both East and Chaney high schools will have new leaders for the 2017-18 school year. Bob Klinar, principal at Maple Heights, Lorain and Kent city schools since 2011, will be the new principal at Chaney High School. Sonya Gordon, an administrator in the Akron Public Schools and an East High alumna, was hired earlier as the new principal at East High School.
Rick Gurski, who has worked since 2012 as principal of the Euclid High School Freshmen Experience, joins as the ninth-grade academy executive director and an assistant principal at East.
Roshay Huff, a deputy chief of transformation this past school year at East and Chaney, has been appointed principal of the new East High Ninth-Grade Academy.
Eboni Williams, an assistant principal at East this past school year, is principal of the new ninth-grade academy at Chaney.
Christine Sawicki, formerly Lowellville Schools' kindergarten through 12-grade principal, joins as a deputy chief of transformation.
Shaheena Khan and Kenya Sadler, both administrators from the Chicago Public Schools, also join as deputy chiefs of transformation. Both women also are pursuing their doctoral degrees.
Christopher Haynes, dean of students at Akron Public Schools, becomes principal at Taft pre-K-8 school.
Rick Shepas, former athletic director and/or football coach at Waynesburg University in Waynesburg, Pa., and at Massillon Washington, Seneca Valley, and Poland Seminary high schools, is deputy chief of physical development and athletics.
Juanita Rogers, an assistant principal this past year at Paul C. Bunn Elementary, will be the principal at Kirkmere, which returns to a pre-kindergarten-through-eighth-grade neighborhood school.
Kelly Weeks, deputy chief of transformation for Volney and Bunn this past school year, will be the new principal at Volney. Like Kirkmere, Volney becomes a neighborhood prekindergarten through eighth-grade school.
Denise Ormerod, who served as principal at Discovery Transitions to Careers at Volney, has retired. In its previous iteration, Volney was a seventh-and-eighth-grade school.
Tod Morris, principal for the last few years at Programs of Promise at Wilson, joins Deborah DiFrancesco as co-principal at Rayen Early College Intermediate School. REC expands next year from a sixth-through-eighth-grade to a fourth-through-eighth-grade school.
William Baun, Michelle Payich, Cathy Dorbish and Art Scissum return as principals of Paul C. Bunn, Williamson, William Holmes McGuffey and Martin Luther King, respectively.
Performing arts, foreign languages and science, technology, engineering and mathematics offerings will be available at all schools with STEM pathways beginning as early as preschool. Both Chaney and East will field their own sports teams throughout the 2017-18 school year.
The administration building at 20 W. Wood St. will be renovated starting late this year to house Youngstown Early College beginning in early 2018. Most central office administrators will move to East High.
More like this from vindy.com