St. Vincent de Paul Society announces opening of new location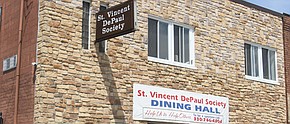 ---
YOUNGSTOWN — The new permanent location of the Mahoning County District St. Vincent de Paul Society Dining Hall will open Monday.
The new location will be in the basement hall of St. Cyril and Methodius Church, located at 252 E. Wood St.

The opening will be a soft opening, meals will begin to be served from 11 a.m. to 12:30 p.m. Monday-Friday and 10 a.m. to 11 a.m. Saturday.
An official grand-opening ceremony will take place on Sept.27, the feast day of St. Vincent de Paul.
The St. Vincent de Paul Society location on Front Street was closed in July after an inspection by the Mahoning County Building Inspection Department found the facility is unsafe.
More like this from vindy.com