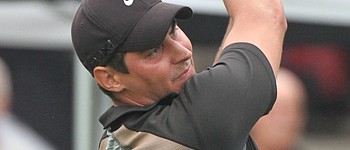 Pridon proves there's no place like home with his longest drive
Published: 8/18/17 @ 12:10
By Greg Gulas
CANFIELD
With two former champions, including defending champ Patsy Daltorio in the finals field, Canfield's Jason Pridon knew that he would have to be at his very best if he expected to win Thursday's Greatest Golfer Long Drive Championship.
The only player to place three of his four drives on the grid, Pridon's 329-yard effort on his third attempt was good enough to top 2014 champ Jim Armeni by a few inches to walk off with top honors at his home course of Tippecanoe Country Club.
It was his initial Greatest long drive competition.
PHOTO GALLERY: GGOV Long Drive Contest
"I felt like I had two good rounds, but in the qualifying round, I duck-hooked my first two shots because I was swinging for the fence," Pridon said. "I caught my third drive just right [327 yards], and it was good enough to get me into the playoff."
In the qualifying round, Warren's Patrick Gray had the top drive at 335 yards. Armeni placed second at 329 yards, and Pridon and Daltorio tied for third with 327-yard efforts.
"I was just happy to make the final cut and qualify," Pridon said. "All I wanted to do was get a good hit on the ball and was lucky that my third drive held up."
The 29-player field included two female participants with former Canfield and Youngstown State standout Felicia Ciotola-Drevna (250 yards) earning top honors over Lauren Martauz (240 yards).
"I competed two years ago but didn't win, so winning today is a really nice feeling," Ciotola-Drevna said. "I was happy with the way that I drove the ball today, but happier that we were able to dodge the rain and get everything in."
The wind didn't seem to have any effect on her swing or strategy.
"I was just trying to hit the right side of the fairway in order to keep the ball in play, and that worked," she said.
With his four shots in the finals round, Pridon failed to keep the ball in the grid in his first attempt, but bookended his winning drive with two 315-yard efforts.
When Armeni won his title, he qualified with a 330-yard drive and then won it with a 339-yard stroke.
He missed the cut in 2015, was unable to participate last year, but was absolutely thrilled to get back to Thursday's finals. His runner-up drive in the finals was the only one of his four shots that he could place on the grid.
"You have to play the wind because it swirls," Armeni said. "There are drives that you feel you hit well, only to have them roll out of play."
"There are other drives that you feel weren't hit very well, yet end up counting. That's why this is a fun competition."
Gray finished third overall, three yards behind Pridon but nine yards off of his top qualifying drive. He also had a 322-yard effort in the finals.
"I just couldn't hit it on the button when it counted," Gray said. "The wind for me wasn't a factor, in fact it might have helped everyone a bit because it was behind us. It was a great competition and the better guy won today."
Daltorio, the 2016 champ, nearly missed out on the finals as none of his first three shots registered. But his final shot was a bomb. In the finals, he had four nice drives, only to have them fall just out of the grid.
He called his a bittersweet effort.
"It took until my last shot to quality for the finals, which made me very happy," Daltorio said. "The disappointment though, was not being able to keep one in play when it counted.
"I actually played earlier in the day at Youngstown Country Club and was hitting the ball the same way. I was just happy to make it to the finals once again."
Arguably the happiest onlooker was Michael Spiech, who is in his 14th year as Tipppecanoe golf professional.
"Both Jason and Felicia are club members, so it was nice to see them do so well. Felicia was a student of mine and I helped build her swing starting when she was 12 years old," Spiech said. "This event has definitely grown and the participants are more competitive than when this started four years ago.
"There's much more excitement and believe it or not, the golfers' technique and swings are much better. With nearly 30 participants today, it just goes to show you how popular this event has become."
The 54-hole, Farmers National Bank Greatest Golfer of the Valley tournament begins today with 306 golfers set to tee off at Mill Creek Golf Course.
Qualifying rounds will be today and Saturday with finals Sunday at The Lake Club.
Subscribe Today
Sign up for our email newsletter to receive daily news.
Want more? Click here to subscribe to either the Print or Digital Editions.