City schools CEO quits consulting job after Vindy raises questions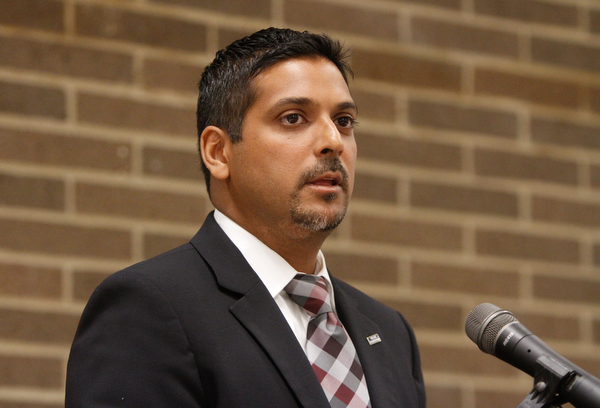 ---
SEE ALSO: Commission asks state to OK pay raise for Mohip
YOUNGSTOWN
Youngstown schools CEO Krish Mohip acknowledged he was paid $4,000 in July by a company whose owners had done business with the school district in February via another company they also owned.
When questioned by The Vindicator on Aug. 9 about the relationship between Atlantic Research Partners (ARP) and Education Research & Development Institute (ERDI), both of Chicago, Mohip quit being a paid consultant for ERDI that very day.
Mohip was paid $4,000 by ERDI for his position on an educational review panel July 12-14.
It was in February that Mohip hired ARP to search for city school district principals at a cost of $12,500.
Both firms have ties to two men – David Sundstrom and Joseph Wise. They, and the ARP firm, have been part of past controversies in education.
Sundstrom and Wise were both founders of ARP. Sundstrom left in March to co-own ERDI. Wise will join ERDI in the coming months.
If Mohip had continued to do consulting work for ERDI, he would have been working for the same people with whom he had contracted $12,500 for district services in February.
Mohip said that when he learned about ERDI's new ownership, he intended to resign from being paid. He had intended to merely donate his time to continue working with the company, he said.
"We do everything we can to avoid the appearance of impropriety," said Sundstrom, who visited The Vindicator editorial board on Tuesday with Mohip.
ERDI reviews educational services and products with educators in a panel format.
Both Sundstrom and Mohip contend there is nothing improper about their professional relationship – saying it is merely a happenstance that Mohip worked for a company that Sundstrom and Wise were taking over.
"When you look at the timeline, it just doesn't sync up," Mohip said.
"When I sat in the last panel, Paul Dulle [CEO of ERDI] was still in charge. I can't determine my life based on who is in what position five years down the road."
Sundstrom and Mohip said the appearance of impropriety is due simply to the ownership change.
ARP, however, has been a victim of happenstance in the past.
In June 2015, ARP acquired parts of a company called The SUPES Academy, a training program for education leadership positions such as principals and superintendents.
SUPES was part of a multimillion-dollar kickback scandal that sent former owners Gary Solomon and Thomas Vranas and former Chicago Public Schools CEO and SUPES consultant Barbara Byrd-Bennett to prison for seven years, 18 months and four years, respectively.
Sundstrom said ARP acquired parts of SUPES in an agreement stipulating that it wasn't involved in any criminal misdoings.
About 22-26 weeks after the agreement was made, however, Sundstrom said he and Wise rescinded the deal after the kickback scandal was revealed.
"It was a bad decision," Sundstrom said.
"We are not the successor of them [Vranas and Solomon]. We did not buy their ongoing business, but we intended to buy the licensed intellectual property and it was misrepresented to us."
SUPES wasn't the only misrepresentation Sundstrom had to deal with.
In 2007, Sundstrom and Wise were asked to leave their positions as chief of staff and superintendent, respectively, at Duval County (Fla.) Schools.
"We were in a situation where we made people uncomfortable," Sundstrom said.
He explained that he and Wise were in positions of transformation for an academically challenged school district.
Although ARP was created later that year, Sundstrom said his and Wise's resignation did not lead to its creation.
"It merely expedited it," he said.
Sundstrom and Mohip agreed that in positions of transformation and power over school districts faced with adversity – such as failing academics – public scrutiny is inevitable.
"If you're going to do good work, you're going to get trashed," Sundstrom said.
More like this from vindy.com