AG rep discusses opioid crisis with Children Services caseworkers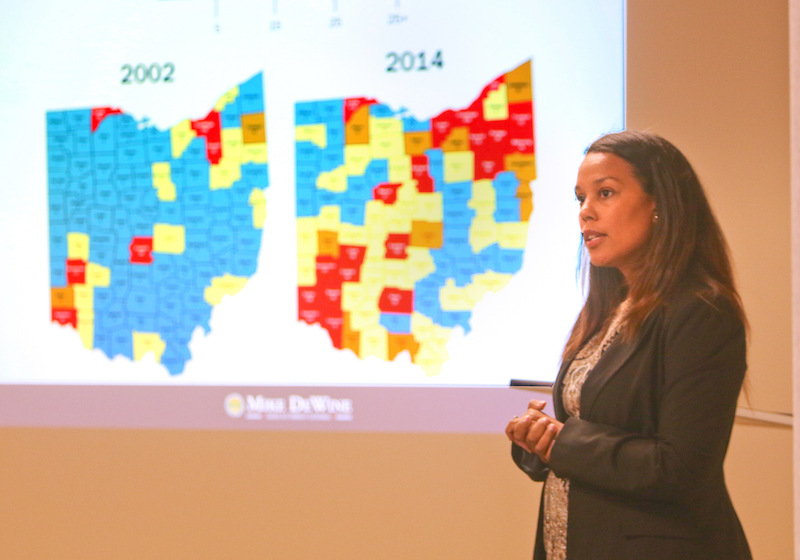 ---
MCCS caseworkers asked about their experiences
By Justin Wier
YOUNGSTOWN
Mahoning County Children Services may not seem like a front line in the battle against the opioid epidemic, but a representative of the state Attorney General's heroin unit addressed caseworkers at the agency Tuesday.
Alisha Nelson, a community outreach specialist for the Ohio Attorney General's office, outlined the epidemic and asked the caseworkers about their experiences.
"The stories that I hear about the kids that are impacted are the hardest stories to listen to," Nelson said.
County agency Director Randall Muth said it's important to focus on the impact this has on children because it's huge.
There has been an 11-percent increase in children in protective custody across the state since 2010, according to a report by the Public Children Services Association of Ohio. About half of the children taken into custody in 2015 had parents who use drugs.
Nelson said the Attorney General's Sobriety, Treatment and Reducing Trauma, or START, program works to get those parents into treatment and keep families together. The program currently serves 20 counties.
The heroin unit is working toward building community collaborations that encompass many agencies and organizations.
Muth said this is vital.
"No agency standing alone is going to be able to make a strong impact," he said. "We need to work together."
Nelson also addressed the growing risk posed by synthetic opioids such as fentanyl and carfentanil. Caseworkers often enter homes where drug abuse may be occurring.
One caseworker asked about the use of naloxone and whether caseworkers should be trained in its use.
Many in the community have voiced concerns about continually reviving those who overdose. Nelson doesn't understand that.
"It hurts my feelings. I take it personally," she said.
She added that she has family members struggling with addiction and doesn't feel she gets to chose who lives and dies.
In this environment, she encouraged the caseworkers to make sure they're not affected by the work to the extent that they aren't eating or sleeping.
"The day is bad enough," Nelson said. "Let's make sure we don't compound it by neglecting our own personal health."
More like this from vindy.com