United Way program prepares students for kindergarten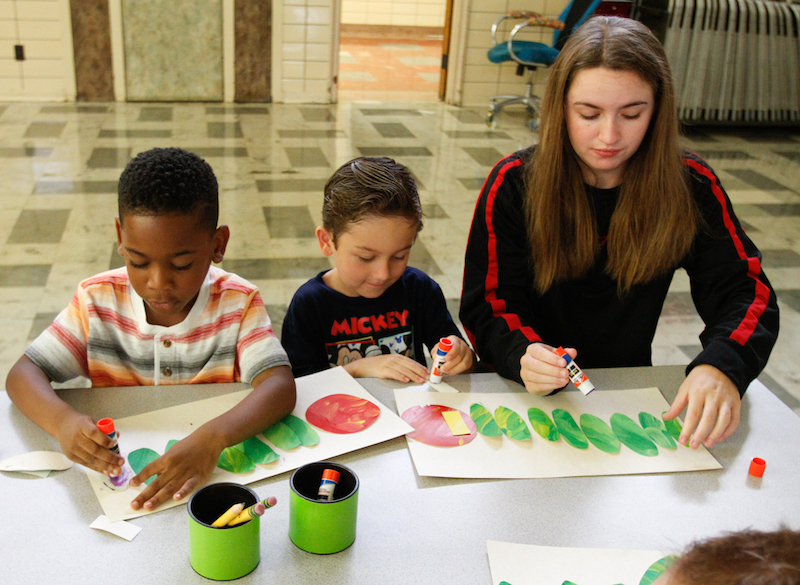 ---
BOARDMAN
Leah Oslavic, 5, is excited to start the school year. What she's most excited about, she said, is getting to ride the bus.
"I like the bus. It's kind of fun," she said as she worked on an art project recently.
Leah, an incoming kindergarten student at Market Street Elementary, is one of the more than 700 children who this year participated in United Way of Youngstown and the Mahoning Valley's Success By 6 program, a pre-kindergarten readiness program that began in 2009.
"Now it is a thriving program, and we offered our program to 19 different school districts in the Mahoning Valley" this year, said Kathy Mock, director of education and initiatives for United Way of Youngstown and the Mahoning Valley. The program is serving its largest group of children this year.
Success By 6, which runs for four weeks during the summer, focuses on a number of areas, including literacy, math readiness, social/emotional skills, cognitive skills and physical skills.
It aims to acclimate students to the building where they will attend kindergarten, help them develop a relationship with their teacher, teach them to adhere to a classroom structure, develop appropriate social skills and work on any deficient areas that were identified when they registered for kindergarten, said Mock.
Students receive 64 hours of instruction from licensed teachers, according to United Way.
"We understand the importance of early childhood education, and this is one of the ways we are getting them ready for success and beyond," Mock said.
Market Street Elementary's 36 Success By 6 students recently honed their artistic skills with guidance from Maggie Kamenitsa, an education assistant at the Butler Institute of American Art.
Kamenitsa worked with students on a "hungry caterpillar" project, for which students pasted colorful pieces of paper into the shape of a caterpillar.
"A lot of their development of their brain happens when they're much younger," said Kamenitsa. "If you expose them to a creative side of thinking, it's beneficial for school."
Her mother, Julie Kamenitsa, is a member of Market Street Elementary's Success By 6 instructional team.
Julie explained that the program mirrors a typical school day.
It aims "to acclimate them to a kindergarten day, between the bus ride and the cafeteria and meeting some of the staff, so that first week is a lot easier for them," she said. "We also try to help some of the incoming students who are struggling, to help them build the foundation before they start kindergarten."
Emily Williams, 5, a Success By 6 student, said it was a little challenging to wake up on time.
Asked if she'd be ready to wake up for school, however, her answer was, "Yes."
More like this from vindy.com