Local residents honored at Italian Fest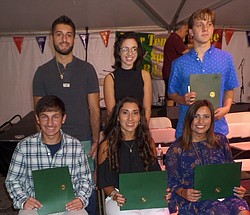 CONTRIBUTED PHOTO

Photo
Above are the six Italian Heritage Foundation scholarship winners, first row, from left, are Hunter Flati, Stephanie Rivera and Maria LaRocca. Back row, from left, Vincenzo Sferra, Angela Rodino and Richard Troisi Jr.
YOUNGSTOWN
Each year, the Youngstown Italian Heritage Foundation honors local Italians for their contributions to the community. This year, the foundation chose six college students who will receive the 2017 Greater Youngstown Italian Fest scholarships. The Italian Man and Woman of the Year were also announced at the event. The festival took place in downtown Youngstown.
John R. Rossetti was the chairman and coordinated approximately 50 volunteers plus additional gate volunteers who worked throughout the year to make it a success.
The foundation's scholarship program grants $1,000 each to college students of Italian heritage who attend Youngstown State University.
The recipients and their fields of study are: Maria LaRocca, junior from Youngstown, interpersonal communications; Angela Rodino, sophomore from Austintown, criminal justice; Vincenzo Sferra, junior from Hubbard, nursing; Stephanie Rivera, junior from Canfield, pre-med; Hunter J. Flati, freshman from East Liverpool, undeclared major; and Richard Anthony Troisi Jr. freshman from Niles, pre-law.
The recipients are selected on the basis of need and merit. An essay also is required in which the applicants describe their individual Italian heritage. This year, Troisi won the 2017 Best Italian Essay award.
Two scholarship donors contributed $1,000 each. They were Filomena Riccioni of Wedgewood Pizza and David and Kelly Centofanti of Canfield. The foundation sponsored the other four individual scholarships.
By awarding scholarships, the foundation hopes to encourage students to successfully complete their studies at YSU and provide local support to the community. It also hopes to keep alive the spirit of all the Italian-American people who sacrificed to build a better life for their children and grandchildren in the local community.
The honorees
This year, the foundation named Rita Finelli and Aldo D'Amato as the Italian Man and Woman of the Year, respectively.
Mrs. Finelli comes from a large Italian family. She married George Finelli at age 20 and had three children, Madelyn Daughtery, Patty (Ken) Miller and George (Patti) Finelli. A stay-at-home mother, she was involved in the community, the church and her extended family. There are eight grandchildren and five great-grandchildren in the family, with another on the way.
Throughout her life, Finelli has been dedicated to the Catholic Church and related organizations. She is a former president of both the Mt. Carmel Society and the St. Elizabeth Auxiliary. She is also a member of the Oblates Auxiliary and the KofC Ladies. Her devotion to these institutions has spanned more than 60 years and has ranged from sitting on committees to volunteering for fundraisers.
Finelli is especially involved with her parish, St. Rose of Girard. As a gifted seamstress, she has sewn many banners and vestments for the priests. Mrs. Finelli is the go-to needle-worker for all her family and friends tailoring needs. She is known for her cooking as well as sewing. Even at 91 years of age, she continues to play a major role in all holiday dinners. She is also a baker, and her cookies can be found on the cookie table at every family wedding.
D'Amato was born in Italy in 1944 and came to Youngstown as a young boy. After graduating from Cardinal Mooney High School, he enlisted in the Navy. He served on the USS Independence and in the Vietnam War. When he returned, D'Amato married Floreann Nudo. Married for 47 years, they have two daughters, Anna and Mary Jo D'Amato. He retired as an A-lineman from First Energy.
D'Amato is proud of his Italian heritage and continues his countless traditions. He takes much pride in his large garden and has entered his tomatoes in the Canfield Fair for two years in a row. In 2015 he came in third place, and last year, he came in first place.
D'Amato plays bocce with the men's leagues at St. Anthony's, the Pacentrano Club, Mt. Carmel tournament in Lowellville and a mixed-league at the MVR. He was also active with his daughters' softball teams and was the first coach to bring a state championship win to Poland in 1985.
Each year, D'Amato can be found volunteering at the beer tent during the festival. He was the chairman for the development of the event's bocce tournament and was co-chairman for the special bocce tournament at the Pacentrano Club from 1997 to 1999. Easter Seals and the Rich Center were the recipients of the money raised. Individuals with disabilities were invited to participate and learn to play bocce. D'Amato made sure that he was one of the teachers.
More like this from vindy.com