Aug. 21 total solar eclipse widely accessible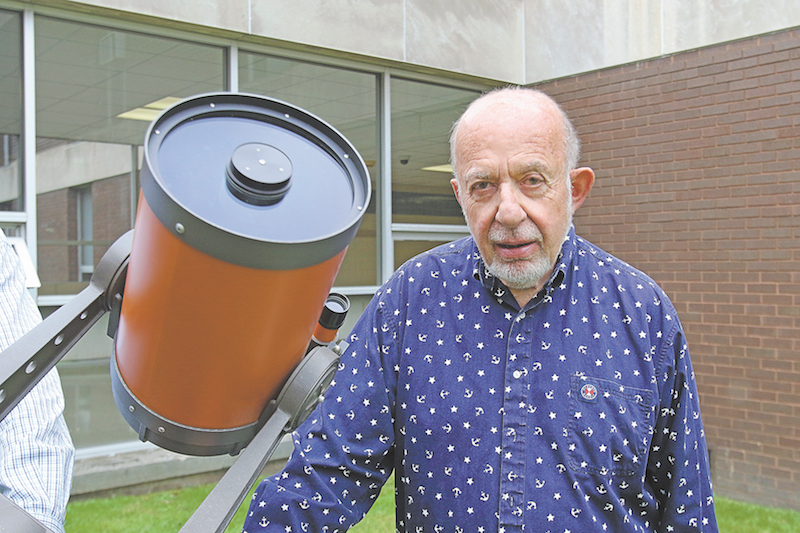 ---
RELATED: Science says solar specs needed for safe viewing of eclipse
FARRELL, Pa.
For the first time since 1979, parts of the lower 48 states will experience a total solar eclipse, and local experts want to prepare the public to fully appreciate the rare spectacle and view it safely.
On Aug. 21, day will briefly become night across a 60-mile-wide path across 12 states as the moon passes in front of the sun.
It will be the first total solar eclipse to completely cross this country since 1918.
Safe viewing requires eclipse glasses or a filtered telescope to avoid eye damage, said Patrick Durrell, professor of physics and astronomy at Youngstown State University and director of its Ward Beecher Planetarium, and Ted Pedas, founder and director emeritus of the Farrell Area High School Planetarium bearing his name.
"Don't look directly at the sun at any time," without these filters, Durrell warned.
"Even if it's 80 percent covered, you still can't look at the sun directly without proper protection," he added.
"It's dangerous to stare at the sun at any time," without the proper filters, not just during an eclipse, Pedas warned.
"Sunglasses are no good. Even welders' glasses are not highly recommended," Pedas said.
"These eclipse shades filter out 99.9 percent of the infrared, of the X-ray and all the other dangerous rays," he explained.
Cross-countRy spectacle
Totality in this transcontinental spectacle, known as the Great American Eclipse, will begin at 10:15 a.m. Pacific Time in Oregon and end about 94 minutes later at 2:49 p.m. Eastern Time in South Carolina.
"During totality, and as it approaches, the last 90 seconds or so [before totality], you get a very eerie feeling that something is happening in the sky. First of all, you feel the temperature drop, and the temperature will drop anywhere from 15 to 20 degrees," Pedas said.
Wild animals become "totally confused. Chickens go to roost. Birds flutter around in total confusion," he added.
"It is an awe-inspiring experience. It's a rather awesome thing to think that this is the great celestial show that our solar system puts on, probably the finest display of the mechanics at work – the sun, the moon and Earth lining up just perfectly and giving you this opportunity to see something extraordinary," Pedas said.
"Don't spend all your time fiddling with your binoculars or telescopes trying to take a picture, because someone else will take a much better one. Enjoy it for the moment," Pedas advises.
Demand for prime viewing locations along the relatively narrow path of totality has caused many hotels and campgrounds along that path to be sold out long before the event.
"It's going right through the middle of the country," Durrell said of this summer's event. "This is a great opportunity to see a beautiful spectacle."
"People were booking up hotel rooms two years in advance," along this year's path of totality, Durrell observed. "It's going to be busy down there."
Carbondale, Ill., and Hopkinsville, Ky., which are among the sites with the longest eclipse duration, will see 2 minutes and 40 seconds of total darkness.
Nashville, Tenn., which is the largest American city in the path of totality, will have 1 minute and 55 seconds of total darkness.
Although the period of total darkness will be short, the complete event will last almost three hours, with a partial eclipse beginning at 11:58 a.m. Central Time in Nashville, totality from 1:27 to 1:29 p.m., and the partial eclipse ending at 2:54 p.m.
Unlike other total solar eclipses, which have required observers to travel to remote areas to experience totality, this one will have an easily accessible path, Durrell said.
With some 11 million people living in the path of totality, and 76 million more within 200 miles of it, this eclipse will be widely accessible for direct American viewing.
"It's readily available. It's a road trip for a lot of people," Pedas said.
Youngstown's experience
Youngstown will see 83 percent of totality, meaning the moon will obscure 83 percent of the sun here at the event's peak.
"From Youngstown, unless you're looking through safety glasses [at the sun] to see that something is going on, you won't know that anything is going on. You're not going to feel the drop in temperature," Pedas said, equating the experience here to the diminished sunlight level on a cloudy day.
The partial eclipse will begin here shortly after 1 p.m. local time, with the peak about 2:30 p.m., and the end of the partial eclipse here about 4 p.m.
"It's so quick because the moon is constantly moving in its orbit around the Earth, and the Earth is rotating, which is why the path is this curved line through the United States," Durrell explained.
The moon will be travelling between 1,700 and 1,800 mph relative to Earth during the eclipse, said Pedas, who lives in Farrell, Pa., and was a planetarium and science education specialist at YSU from 1968 to 1993.
Pedas said he will observe the eclipse from Booneville, Mo., which will have the maximum period of totality at 2 minutes and 41 seconds.
Durrell said he is planning a free local Aug. 21 public viewing event for the actual eclipse at the Mill Creek MetroParks Farm in Canfield, at which filtered telescopes will be set up and 800 or more pairs of free eclipse glasses will be distributed to the public.
A thermochromatic U.S. Post Office stamp commemorates this year's total solar eclipse, Pedas said.
The 2024 eclipse
After this year's celestial event, Americans won't have to wait too long to experience the next total solar eclipse to hit parts of the 48 contiguous states.
The April 8, 2024, solar eclipse will have a path of totality extending through Mexico, the United States and Canada, with Erie, Pa., and Cleveland in the center of that path, Akron and Warren within it, and Youngstown just outside the edge of that path.
The period of totality will be 3 minutes and 50 seconds in Cleveland, 2 minutes and 5 seconds in Warren, but only 48 seconds in Sharpsville, Pa.
"I'm looking forward to that one because it's nearby for us," Durrell said.
Regardless whether the sun is visible or obscured by clouds during a total solar eclipse, all points within the path of totality will experience a brief period of total darkness, Durrell and Pedas said.
Pedas has seen 15 total solar eclipses between 1963 and 2002, three from land, one from an airplane and 11 from ocean and Black Sea eclipse cruises he has organized and led.
The advantages of cruises are the unobstructed view of the horizon at sea and the ease of maneuvering the ship to a cloud-free viewing area based on weather forecasts, Pedas added.
More like this from vindy.com