Wellness Walk promotes good health for families, especially black men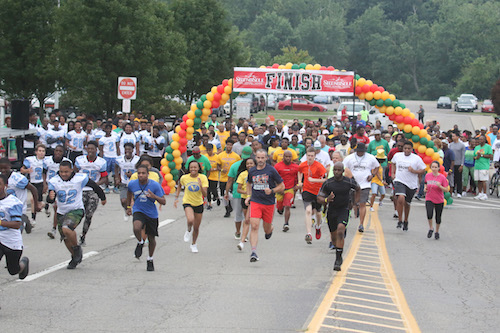 ---
By Sean Barron
YOUNGSTOWN
Carol Smith's face beamed after she received results of one of her important numbers.
"Everything is wonderful. My blood pressure is good, and my cholesterol numbers are to be mailed to me," said Smith, a nurse and community health activist. "It's a wonderful way to learn what we need to know about staying healthy."
Smith was among the many men and women who took advantage of free health screenings, which were the main offerings of Saturday morning's fifth annual African- American Male Wellness Walk/Run of the Mahoning Valley that began at the Covelli Centre.
People of all ages took part in the 5K walk and run that meandered through much of the downtown and back to the Covelli Centre. The first two participants to return were brothers Marquan and Marquise Herron, both of whom play for the East High School Golden Bears football team.
Licensed medical professionals, including more than 30 nursing students from ETI Technical College in Niles, provided the screenings for blood pressure, body-mass index, cholesterol, blood glucose, weight, dental care and hearing. Also available were flu vaccines and tests for lead.
The family-oriented walk and run, themed "Healthy men make healthy families," was to encourage especially males to be more proactive regarding their health and well-being. Too many men continue to die before age 65 from health problems that are preventable and treatable, noted the Rev. Lewis W. Macklin II, walk coordinator.
"We're dealing with the mind, body and soul. Early prevention is the key," said the Rev. Mr. Macklin, who's pastor of Holy Trinity Missionary Baptist Church on the South Side.
Men who take care of their health often set good examples and encourage family members to follow suit, which usually contributes to improved health of communities, he continued.
New as part of the annual walk and run was a mobile medical clinic to put area veterans in touch with available resources.
"We treat the family unit as a whole. The veteran can bring in anyone who is significant to him or her," explained Brandon L. Gregory of Morgantown, W.Va., an outreach program specialist with that city's veterans center.
Gregory noted that one of his facility's primary services is readjustment counseling, which makes it easier for veterans of all branches of the armed services to transition from military to civilian life. Other offerings include help for those who suffer from post-traumatic stress disorder, sexual trauma and bereavement, along with individual, group and marital counseling, as well as substance-abuse screenings and referrals, said Gregory, adding that suicide continues to be far too high among those who served in combat.
"One suicide is one too many," he added.
Veterans who are in crisis, need someone to talk to or wish to be connected with resources are encouraged to call 877-927-8387 (WAR-VETS) or 800-273-8255 (TALK), both of which operate 24 hours a day, seven days a week, Gregory noted.
Also part of the gathering were workout and exercise classes, educational workshops, entertainment, activities for children and a variety of fruits and other healthful foods, as well as plenty of brochures on assisting victims of domestic violence and sexual assault. Also, information on Alzheimer's disease, HIV/AIDS, hepatitis, sexually transmitted diseases, financial literacy and behavioral-health counseling was available.
At another table was Penny Wells, director of Mahoning Valley Sojourn to the Past, who was distributing fliers that listed events for the seventh annual Ohio Nonviolence Week, which will be the first week of October.
Also on hand was a mobile dental clinic that provides services such as cleanings, exams, fillings and minor tooth extractions. The large vehicle, in conjunction with St. Elizabeth Youngstown Hospital's dental unit, stops at elementary schools, senior centers, facilities such as the Rescue Mission of the Mahoning Valley and other locations in Mahoning, Trumbull and Columbiana counties five days a week, noted Bill Hughes, a driver.
"Don't ignore your health," he advised.
Nearby was a 3-D mobile unit that offered mammograms. Those interested in the service needed a driver's license and insurance card, said Teresa Sowinski, a mammography technologist. People without insurance could receive applications to see if they qualify for free mammograms, she added.
During a somber moment, Mr. Macklin asked attendees to honor the late Olla Tate, a community activist and former registered nurse who was active with the walk, and Shawn Trowers, who was an intake worker for Mahoning County Children Services, a social worker with Belmont Pines Hospital and a walk participant before she died last month.
He also called for a moment of silence to remember victims of violence, including Anvia Mickens, 28, of Bradley Lane, whose body was found in the trunk of her boyfriend's car in Niagara Falls, N.Y., last week. The Niagara County Coroner's Office said she died from strangulation and multiple stab wounds, and ruled her death a homicide.
Additional free health screenings will be offered from 5:30 to 7:30 p.m. Sept. 21 at Grace AME Church, 1137 Main Ave. SW, Warren. To register, call Mercy Health at 330-480-3405.
More like this from vindy.com