23rd Pink Ribbon Tea to be hosted by Junior League of Youngstown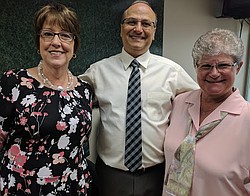 CONTRIBUTED PHOTO

Photo
Pink Ribbon Tea of 2017 officials pictured above, from left, are Pam Nock, co-chairwoman; Dr. Antoine Chahine, honorary chairman; and Susan Stewart, co-chairwoman.
YOUNGSTOWN
Junior League of Youngstown will host its 23rd annual Pink Ribbon Tea on Aug. 21 at Stambaugh Auditorium, 1000 Fifth Ave. Doors open at 11 a.m. with the luncheon program to begin at noon. The tea is an afternoon to celebrate survivors. There will be a basket raffle, and gift bags will be provided to all in attendance. Survivors attend for free due to the support of underwriters, sponsors and league members.
This year's honorary chairman is Dr. Antoine Chahine of the Blood and Cancer Center. Dr. Chahine has been the medical director of the Blood and Cancer Center since 1995. Dr. Chahine shared that "he is always a medical student," as his field involves so much research, learning and applying new things.
Breast-cancer survivors who would like to attend this year's tea should call the Junior League's office at 330-743-3200 by Tuesday.
More like this from vindy.com