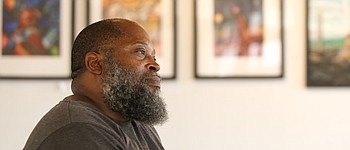 Exonerated man shares his art, music
Published: 8/12/17 @ 12:11
By SARAH LEHR
slehr@vindy.com
YOUNGSTOWN
Raymond Towler of Elyria doesn't paint anymore.
When he was serving 29 years in prison for a crime he didn't commit, he spent a lot of time painting. The very act of picking up a paintbrush is enough to trigger painful memories of his life behind bars.
"It's funny because when I was in prison, I painted to get out, but now when I paint, it's like going back," Towler, now 60, said. "It's like muscle memory, almost. ... There is hope that I'll start painting again, but it's tough."
Since being exonerated in 2010, Towler has painted only a few works on commission or to give as gifts. These days, music is his primary artistic outlet. He's released two R&B albums – "Freedom" and "Freedom II" – and plays in a band with other formerly incarcerated people.
Towler's band will perform today at the Soap Gallery, 117 S. Champion St., during Towler's first solo gallery exhibition from 6 to 9 p.m. One of the works on display is a hyper-realistic painting of a brass bell. Towler calls it the "Liberty Bell" because he was working on the piece while petitioning for his release.
Towler says another painting, an abstract rendition of a contorted face, is indicative of the "hell" he went through.
Towler's nightmare began in 1981. A man had raped an 11-year-old girl and assaulted her 12-year-old male cousin in a Cleveland park. Three weeks later, a park ranger pulled over Towler for running a stop sign. The ranger thought Towler resembled a composite police sketch of the rape suspect.
Towler said that while he was distrustful of police due to "run-ins" during his childhood, he kept believing that the system would correct its mistake. He kept expecting to hear that it was all a misunderstanding, that he was free to go.
He said he was pressured to take a plea deal but refused to admit guilt for something he didn't do.
"There was no way I could physically do it, you know, say the words," Towler said.
The case went to trial. Because the only physical evidence was inconclusive at the time, the case relied on identifications of Towler by the children and two passers-by who believed they saw Towler in park. Cuyahoga County Common Pleas Judge Roy F. McMahon found Towler guilty and sentenced him to life in prison. Towler was 24.
Decades later, when he's half-asleep at night, Towler can't stop his brain from conjuring up the sounds of prison – inmates fighting, his cellmate's stomach growling, the guard's radio.
"The thing about prison was that it was never quiet," Towler said. "It was bunk beds like sardines in a can."
Art helped Towler stay sane. He got a job as an attendant in the prison art room and began selling portraits for pocket money. His sister sent him a guitar, and he taught music theory to other inmates.
He made an effort not to become "hard" and to maintain a connection to broader society. He did this by befriending some of the social workers, guards and other prison staff.
He also established friendships with several of his fellow inmates. Towler said he had sympathy for some of the men doing time alongside him. Some of them were mentally ill, and some of them had agreed to take the fall for a friend's theft or drug crime, Towler said.
Towler gives credit to the ex-cons who acknowledge their mistakes and are trying to start an honest life, despite the prior felony convictions hanging over their heads.
"They came out to a firing squad, and I came out to a parade," Towler said.
Towler's release ignited a media frenzy. To this day, people hear his story and want to shake his hand or give him a hug.
The passage of a 2003 Ohio law changed Towler's life. The law allowed convicts to request DNA testing under limited circumstances to prove their innocence. Since 1989, more than 350 people across the nation have been exonerated with DNA evidence, according to the Innocence Project. More than 60 percent of those people were black like Towler.
With the help of the Ohio Innocence Project, Towler had petitioned for exoneration several times and was unsuccessful. In 2010, the science finally caught up.
DNA test results came back. The results showed the samples belonged to the same man, and that man definitely was not Towler.
Towler remembers he was technically free to go once a judge signed papers accepting the results. He wanted to burst out of the lockup and run through the cornfields.
He agreed to stay one more night behind bars, however, so he could walk free for the first time in front of the news cameras at his court appearance the next day. At that hearing, Cuyahoga County Common Pleas Judge Eileen Gallagher choked back tears and read Towler an "Irish blessing."
In 2011, the state awarded Towler a $2.5 million settlement. Towler says the money is no substitute for his lost decades, though he acknowledges it's a way to help him live the life he wants to live.
Despite his wrongful conviction, Towler considers himself to be "blessed."
"I can't be thinking about the past," Towler said. "I spent almost 30 years in prison – that's a whole lifetime for some people. I've got to focus on the future."
Don't Miss a Story
Sign up for our newsletter to receive daily news directly in your inbox.