Community need leads to first Symposium on Overdose, Grief & Healing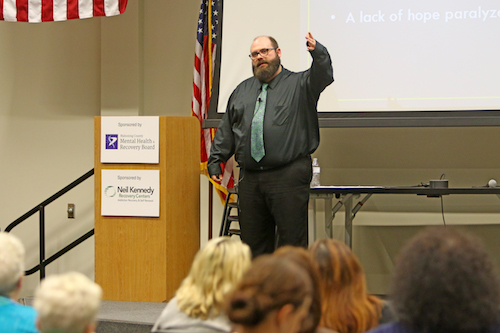 ---
CANFIELD
After the Coalition for a Drug-Free Mahoning County led a program in a local school district earlier this year, it heard back from the school the next day.
"They called and said, 'Our teachers are struggling to teach kids who are dealing with grief because their parents or siblings have died of an overdose,'" said Angela DiVito, coalition executive director.
She knew her organization needed to do something. So, the coalition planned its first Symposium on Overdose, Grief & Healing, which took place Thursday at the Mahoning County Career & Technical Center.
What at first was supposed to be a session for teachers grew to an event that drew 200 participants – including teachers, religious leaders, emergency medical responders, and people grieving the loss of a loved one, among others – and 42 organizations. In all, nine counties were represented at the event.
The turnout, DiVito said, shows how great the need is for support for people whose lives are affected by the opioid epidemic.
Emily Myers, a clinical counselor who works in Lisbon, sees the impact of the crisis with the children with whom she works.
"I work mostly with children, so we see a lot of children of addicted parents," she said.
She attended a professional development class titled "The Elephant in the Classroom," where she learned about the different roles that children of people with substance-abuse problems play in the family.
Morgan Thompson, who works in Community Psychiatric Supportive Treatment at a school in Ashtabula, also found the session helpful for her work.
"I work with kids who, either their parents have passed away or they're not in their lives," she said.
Joleen Sundquist, who works at an Ashtabula counseling center, said she sees children in similar situations.
"I work primarily with children and families, so I'm seeing a lot of families torn apart by opiates," she said.
One speaker talked about how opiate addiction can be compared to a physical injury, a comparison that stuck with Sundquist.
"I think that speaks a lot to reducing the stigma around trauma," she said. "For people who are struggling with opiate addiction, recovery is a journey that is very comparable to a wound. It needs time to heal. And if it doesn't heal correctly, it can affect all areas of your functioning."
Symposium participants spent the day in professional development sessions geared toward their experience with addiction. One, for example, was for spiritual leaders and how they can help families dealing with addiction. Another focused on the experience of military members, first responders and their families.
In addition to classroom sessions, a panel discussion and other events, the symposium featured keynote speeches from Dr. Jamie Marich, a clinical counselor specializing in trauma, addiction, and mindfulness, and motivational speaker Karen Vadino.
The day ended with a celebration of life event recognizing people who have died due to addiction.
DiVito said she hoped participants took away "a renewed sense of compassion" and "a new sense of empowerment."
"And for the family members, I really hope they walk away with a sense of peace," she said.