Incoming Boardman students learn about safety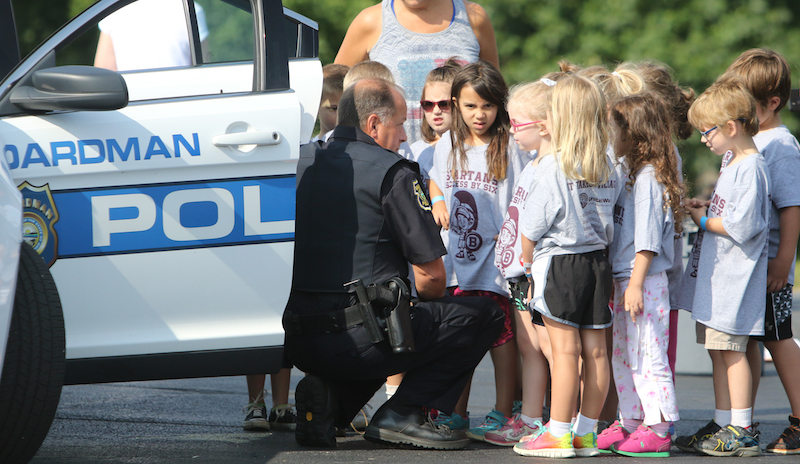 ---
BOARDMAN
2The fire department was one of several organizations that helped with Thursday's Safety Village, a long-running program that teaches incoming kindergarten students about a host of safety issues.
"We're trying to set our littlest Spartans on a road for safety and success," said Tanna Sebrell, the Parent Teacher Association member who organized the event.
For several hours, a group of 160 kids rotated among stations about police, fire, busing and pedestrian safety set up outside Glenwood Junior High School.
At the pedestrian safety station, led by Boardman High School students, participants learned about bike/helmet safety, how to safely cross the street and how to follow traffic signs.
At another station, township police officer Mike Salser showed students a cruiser and talked to them about the importance of wearing a seat belt.
Members of the school district's transportation department brought a bus to the event so incoming students could learn the rules and take a practice ride.
In addition to showing students a fire engine, township firefighters led them through a trailer that simulates a fire. As students stood inside the trailer, smoke began to appear. They used the safety techniques they had just learned to safely exit, climbing down a ladder and into the arms of a firefighter.
After climbing to safety, Nora Natal, 5, shared what she had learned.
"We practiced that there was a real fire," she said. "We learned that if there's a fire, we have to feel the door, and if the door is hot, we have to go out the window and get down low."
Firefighter Anthony Reiter said the exercise is meant to teach children how to exit a building safely and get to a meeting spot.
"The biggest thing is, don't come back for anything, even your favorite toy," he said.
Safety Village was sponsored by Love This Place Inc. of Youngstown, the township police department, the PTA Safety Village Council, Boardman schools, the township fire department, Ripped Vinyl of Salem and X-pert Designs of Boardman.
Event organizers noted the event has grown substantially in the last few years.
"It's steeped in tradition, but it gets better every year," said district spokeswoman Amy Radinovic.
Sebrell said she hoped students would take some of what they learned home with them.
"We have so many families that are really, really great. They do everything you're supposed to do," she said. "But there are some kids who are not even strapped into their car seats. Because we gave them that information, they can at least strap themselves in."
More like this from vindy.com