Children build life-size creations at the library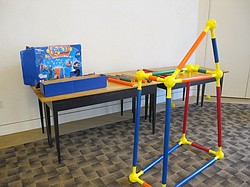 Photo
Neighbors | Alexis Bartolomucci.Toobeez were set up for children to make life size objects on July 8 at the Austintown library for the Life Size Building program.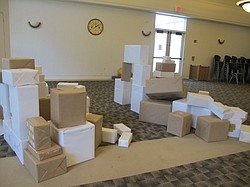 Photo
Neigbors | Alexis Bartolomucci.Cardboard boxes filled the room at Austintown library for children to use to build different objects on July 8.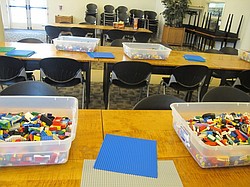 Photo
Neighbors | Alexis Bartolomucci.Legos were set up on the tables at the Austintown library for guests at the Life Size Building program to create different objects.
By ALEXIS BARTOLOMUCCI
The Austintown library hosted a Life Size Building program on July 8 for children of all ages.
From 10 a.m. until 4 p.m., children could come to the library and use the various materials provided to create life-sized masterpieces. There were cardboard boxes, Legos, Toobeez and other objects available for children to use.
The library room was open for a long duration of the afternoon so the children could come and go as they pleased. The time period allowed several families to come at different times to allow more room for the children to build their creations.
The materials that were set out could be built and knocked down easily allowing the guests to make multiple creations. Children worked together and individually to use their imaginations to create different types of buildings and objects.
The Life Size Building program was part of the summer reading program giving children the opportunity to keep busy during the summer and making the library a fun and educational place to go.
More like this from vindy.com