Youngstown Italian fest opens with pasta, puddles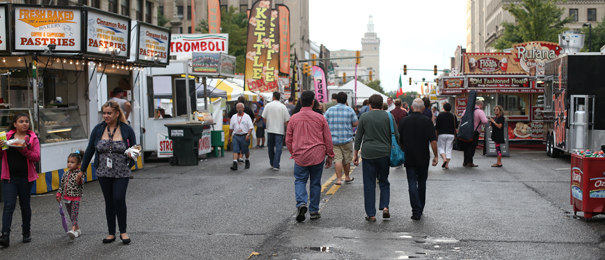 ---
By GRAIG GRAZIOSI
ggraziosi@vindy.com
YOUNGSTOWN
The 32nd annual Greater Youngstown Italian Festival kicked off Friday with an abundance of pasta and puddles in downtown's Central Square.
The celebration of the city's Italian cultural heritage includes food vendors, a variety of musical acts, raffles, auctions, a pageant and a Morra tournament.
Thunderstorms rolled into the city in earnest in the late afternoon, dumping heavy rain on the network of tents and food trailers lining Federal Street between Phelps Street and Champion Street.
By 6 p.m., the streets were quiet other than the impact of raindrops on the asphalt. Most attendees sought refuge from the rain inside the wine and beer tent at the edge of the festival.
Chelsea Fentress was working at the festival when the rain began. She and a friend, Abby Carlson, who had just moved to Youngstown from Akron three days prior, were huddled in a tent waiting for the weather to break.
It was Carlson's first time at the Greater Youngstown Italian Festival. Fentress assured her that Saturday – with expected pleasant temperatures and all-day sun – would be more indicative of a typical festival experience.
Inside the beer and wine tent, the Miss Italian Fest Pageant was carrying on despite the gray and the wet. The pageant audience filled out the front of the tent, close to the stage, while those seeking shelter or beverages – or both – filled out the rear. By the end of the evening, Ava Briceland, 9, and Erin Jones, 18, would be named Junior Miss Italian Fest and Miss Italian Fest, respectively.
The tent became a microcosm of the broader festival as the downpour continued: People ducked in to eat their food while others lined up for beer. Men played Morra – a game similar to Liar's Dice mixed with Rock, Paper, Scissors dating back to antiquity – in the back to prepare for the tournament later that evening. Local politicians – including Democratic mayoral candidate Jamael "Tito" Brown, city councilmen Mike Ray and Julius Oliver and state Rep. John Boccieri of Poland, D-59th – used the opportunity to mingle with their constituents.
Just after 7 p.m., the rain let up and the skies lightened. As the clouds receded, the attendees emerged from the tents and repopulated the streets, lining up to grab more food and drinks. Music began playing from the festival's main stage as the technicians prepared sound equipment for the evening's musical act, The Ovations with Mark Pupino.
Luigi Lombardi and Paul Niemi, a pair of Morra players registering for the tournament, were among those who waited out the rain.
Lombardi said that enduring the conditions was worth it as attending the festival had become a tradition for him. Niemi's response was equally dutiful.
"We're dedicated," Niemi said, laughing. "We're dedicated to having a good time."
The Greater Youngstown Italian Festival continues through the weekend, concluding at 11 p.m. Sunday with fireworks.
More like this from vindy.com