Thunderstorm knocks out Poland Invitational
Poland Track Invitational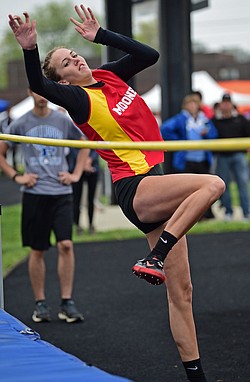 Gallery
By Brian Dzenis
POLAND
Mother Nature ultimately won out at the 22nd Poland Invitational.
Lightning and pouring rain washed out the 35-team track and field meet on Saturday. It won't be rescheduled.
Photo Gallery: Poland Track Invitational
"With the way the track season is scheduled and the travel, we can't do it," meet manager John Jeren Jr. said. "With the Cleveland-area teams here, we can't just make them all come back on a Tuesday."
The event kicked off at 9:30 a.m. and lasted until noon when thunder and lightning stopped the competition.
Within an hour, the invitational was canceled.
Just seven events were completed before the storm: the boys and girls long jump, the boys and girls 3200, the girls discus, the girls high jump and the boys shot put. Their scores will count, Jeren Jr. said. Three locals got to claim a victory in the storm-shortened meet.
Crestview's Dominic Perry won the shot put. The Rebels' sophomore chucked the shot 56-04, beating runner-up Curtis Burgan of Triway by close to four feet.
The throw marks the second time Perry has set the school record in the event. He beat his own mark of 54-7.25.
McDonald's Malina Mitchell took the 3200 with a time of 11:06.31. She bested Beaumont's Ashley Rulison by 1.85 seconds.
Howland's Madison Hurlbut tied with Garrettsville Garfield's Lauren Jones and Hudson's Brynn Meyer for first in the long jump with a 4-10 leap.
Other high finishers include Howland's Vincent Mauri, who was the runner-up in the 3200. The Tigers' Stephen Baugh and Champion's Noah Bayus took second and third, respectively, in the long jump.
More like this from vindy.com