11th annual book festival promotes reading in children
Plant a seed to Read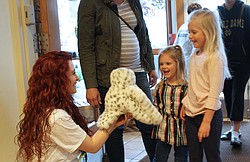 Gallery
By ELISE McKEOWN SKOLNICK
YOUNGSTOWN
Several organizations worked together to "Plant the Seed to Read" in children.
The goal of the 11th annual book festival is to promote a love of reading, said Patty Zitello of Altrusa International of Youngstown, one of its planning organizations.
"All of the activities that we have today are to engage and stimulate children and encourage a love of reading," she said.
Photo Gallery: Plant a Seed to Read
Their second goal, she noted, is to provide a book for children.
"Every child gets to choose their own free book," she said.
Typically, about 1,000 children attend the event at Fellows Riverside Gardens in Mill Creek MetroParks.
Other partner organizations for the free event are the park, the Public Library of Youngstown and Mahoning County and Western Reserve PBS.
A variety of organizations, including The Vindicator, Girl Scouts of North East Ohio and the Carnegie Science Center participated Saturday. Storytellers and authors took part, as well. Children could make crafts, enjoy a healthy snack and listen to stories. Nature Cat, from the PBS show of the same name, and Booker Bear, the library's mascot, posed for photos.
Brittany Barone of Boardman and her stepdaughter, Lily, 7, attended last year. It was so much fun that they came back this year.
"I got a book," Lily said. She chose "Beauty and the Beast." She enjoys reading, she said.
Barone said the event is great.
"I love children's literature," she said. "I'm a school teacher, so this is wonderful."
She thinks events such as the festival bring books to life for children, which makes them more excited to read.
Sarah Fenton of Youngstown and her children, Domanic Fenton, 7, and Sophia Putnam, 4, attended for the first time.
"I thought it would be good for the kids to get some books," Fenton said. "It's actually really nice. There's a lot of activities that are good for the kids to do.
They made crafts, including a paper plate fish, and played some games.
"The story times are the best, though," Fenton said.
About 100 volunteers helped with the event, said Samie Winick, a member of the planning committee.
"Really, we couldn't do this with less than that," she said. "It takes that many to really pull this off."
More like this from vindy.com