Tarpley enters contest for Youngstown mayor
Janet Tarpley files as Independent for Mayor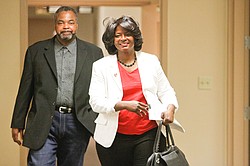 Video
By Justin Wier
YOUNGSTOWN
Former 6th Ward councilwoman Janet Tarpley said now is the time for her to run for mayor.
"I can't wait any longer, and I'm not getting any younger," Tarpley said. "I have to put my energy in this right now."
Video: Janet Tarpley Files as Independent for Mayor
She filed her petition Thursday morning to seek the office, competing as an independent in this fall's general election.
Tarpley served eight years on city council, through 2015. She failed in her bid for the Democratic nomination for state representative in 2014, losing to current state Rep. Michele Lepore-Hagan, D-58th.
Tarpley considered running for mayor four years ago, but she said she didn't see a way for her to win in an overcrowded field. This year, she made her intentions known early.
Mayor John A. McNally will compete against former city council president Jamael Tito Brown in Tuesday's Democratic primary. Tarpley likes her chances against both potential competitors.
"Over John, I think I bring honesty and integrity," Tarpley said. "[Brown] would be easier for me, I believe, because I feel that Tito has not been involved in the last four years."
She allowed that McNally has maintained the city well, but she said some of the successful initiatives under his tenure, such as the Community Initiative to Reduce Violence, were her ideas.
While Tarpley served on council as a Democrat, she said her experiences there validated her decision to run as an independent.
"Simply in my neighborhood, on my block, I had Republicans, Democrats, independents, straight people, gay people, black, white. Some of those people didn't vote for me, but I represented each and every one of them," she said. "As an independent, I'll be open to represent everyone."
As far as her priorities, Tarpley voiced concerns about the city's decision to start its own garbage collection, which had previously been privatized. She criticized the cost of the proposed riverfront amphitheater, which she also said was her idea.
"I think we could do it for probably half of what it's costing. Then, I feel that the people wouldn't be so upset," Tarpley said. "People are so upset. It's like, 'You're spending all this money, and I can't eat.' And they're right, it isn't making any sense."
Tarpley said some of that funding would be better directed toward a grocery store, which would be a priority under her administration.
"The mayor said they're absolutely not putting money in a grocery store, but you can put money in other places. I don't understand," she said. "That's one of the basic needs of the people, the opportunity to be healthy."
More like this from vindy.com