Clemens affidavit reveals details of deadly attack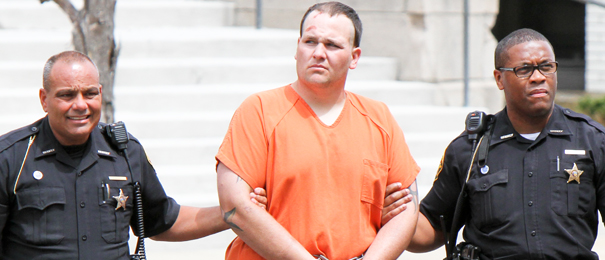 ---
Liberty Disturbance 911

Audio Clip
Excerpts from Liberty callers to the Trumbull County 911 center about a disturbance that turned out to be a homicide on Church Hill-Hubbard Road.
Police discuss Liberty murder case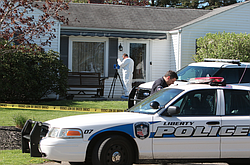 Video
Police Chief Richard Tisone and Detective Sergeant Ray Buhala discuss the arrest of Sean Clemens, 33, in the homicide early today of Jane Larue Brown.
Clemens Affidavit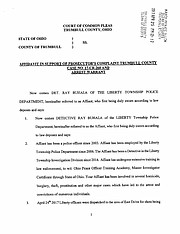 Document
Affidavit in support of Trumbull County Prosecutor's complaint - case no. 17-CR-260 and arrest warrant for Sean Michael Clemens.
By ED RUNYAN
runyan@vindy.com
WARREN
Sean M. Clemens, 33, admitted to police he went to the home of his neighbor, Jane Larue Brown, 84, early Monday, beat her with a hand shovel from her garden, cut her neck with a knife, then loaded up electronics in her 2017 Cadillac and left.
But Clemens didn't go far, only to the remote property behind his house across the street on Church Hill-Hubbard Road in Liberty. He drove the Cadillac SUV into a wooded spot and set it on fire, police said in an affidavit unsealed Tuesday.
Audio Clip:Liberty Disturbance 911
Video: Police discuss Liberty murder case
His actions apparently were noticed by neighbors, who called 911 at 5:55 a.m. to report hearing noises and seeing a man running with a dog. Police arrived to find the burning car and begin their investigation.
Clemens admitted to a co-worker later Monday he thought he had killed someone. Police found Brown dead in her bed about 6:15 a.m. The hand shovel was under her body.
Police said Brown was well-known and well-liked – known for her frequent walks, golfing and gardening.
A 2014 Vindicator article said Brown worked 25 years at the 20th Century restaurant on Youngstown's North Side, first as a waitress and later as manager.
The affidavit doesn't say directly why Clemens killed Brown. Authorities have suggested the motive was theft. Chris Becker, assistant county prosecutor, said after Clemens appeared Tuesday in Trumbull County Common Pleas Court for an initial appearance on aggravated murder, aggravated robbery and attempted burglary that he cannot discuss the case facts.
Judge W. Wyatt McKay said Clemens will remain in jail without eligibility to make bond until at least his next hearing at 1:30 p.m. May 3. Clemens will be represented by the Ohio Public Defender's Trumbull County office.
Becker said a grand jury will consider charges this week that include the possibility of getting the death penalty.
Clemens did not say much during the hearing. He spoke briefly with Matt Pentz of the public defender's office and softly answered "OK" when Judge McKay asked him if he understood he did "not have to talk to any authorities and the police in this case, and if you do, anything you say will be held against you."
But Clemens said plenty to investigators with the Liberty Police Department and Trumbull County Homicide Task Force, authorities said. The affidavit said Clemens told detectives Ray Buhala of Liberty police and Mike Yannucci of the sheriff's office that he used a sledgehammer to break into Brown's house through the sliding glass door.
He said he beat Brown with the hand shovel and cut her with a knife he took from Brown's home. The affidavit said Brown had defensive wounds on her arms.
The affidavit said Clemens ransacked the home, selected various items and loaded them into Brown's SUV, which was parked in her garage.
He took a flat-screen television and computer tower, plus bags of other items. Most of the items were recovered from Clemens' home, the affidavit said.
"Clemens stated he then drove the 2017 Cadillac SUV from [Brown's residence] to the back of his residence," the document says. "He then put the TV in the garage and remaining items in a spare room."
Clemens also said he drove the SUV, which now had his two dogs inside, to the area where he burned it – a grass alley between March and East drives.
He said he took a gas can from his garage, doused the interior of the SUV with the gas and started the fire. "Clemens admitted that he got singed by the fire he started," the document says. A gas can was found near the Cadillac.
Clemens had a visible mark on his forehead, but authorities would not discuss whether the mark may have come from the homicide.
A Liberty police officer said someone from Clemens' home had been cutting Brown's grass, but investigators said others lived at that home and it's not clear who was cutting the grass.
Clemens picked up a co-worker at 7:30 a.m. Monday, the affidavit said. The two went to a clinic where Clemens received methadone treatment for drug addiction.
Clemens told the co-worker he had "gotten into a lot of trouble last night and he thinks [they are] dead. Clemens also told the co-worker he "was going to spend the rest of his life in jail."
Later at a job site in Poland, Clemens told the co-worker he had beaten someone and cut her. That was the first time the co-worker realized Clemens was talking about a female victim, the co-worker told police.
After Liberty police were first alerted at 5:55 a.m. to a disturbance involving possible shots fired on East Drive, they found Brown's SUV on fire in the grass alley about 200 yards from Brown's home and right behind Clemens' house.
Officers went to Brown's home and found the sliding glass door smashed and a sledgehammer nearby.
An officer went to Clemens' house while canvassing the neighborhood. The officer found the breezeway door to Clemens' house open, then noticed blood on the open door, the affidavit says.
Using a warrant, officers went in and found items they believe were stolen from Brown's home, including the television that appeared to have blood on it and other items with blood on them. They also found a ripped $10 bill inside Clemens' home with the matching portion in Brown's home.
Clemens returned to the neighborhood after getting a call from someone saying there was police tape around his house, the co-worker told police. When Clemens and the co-worker got close to Clemens' house, Clemens asked the co-worker to throw a Samsung mini-tablet the co-worker was holding out the window, but the co-worker refused. Clemens later threw it out himself. Police recovered it with the help of the co-worker.
Clemens was sitting in his truck in a neighbor's driveway when police realized it was him. Police noticed Clemens had injuries to his head and he had singed arm hair. The co-worker told police Clemens said he wished he had not put Brown's SUV "so close to his property," the affidavit says.
Clemens asked his co-worker to "pinkie-swear/promise not to divulge any of the information he had told him."
Clemens was charged with felonious assault in September 2007. Liberty police reported Clemens was in a fight with another man at Parkwood and Dailey avenues. He was convicted in Girard Municipal Court of misdemeanor assault and ordered to pay $100 of a $1,000 fine.
Clemens was convicted of misdemeanor theft in Girard Municipal Court in 2003 and made restitution for stolen items, according to court records.
He was convicted of disorderly conduct in 2008 for an offense that occurred in Austintown. Court records show Clemens has convictions for operating a motor vehicle while under the influence of alcohol or drugs in 2006 and 2010 in Youngstown and Warren municipal courts, respectively, and a 2011 conviction in Niles Municipal Court for driving under suspension and possession of a criminal substance.
More like this from vindy.com