At Brothers Pizzeria & Restaurant it's ... ALL in the FAMILY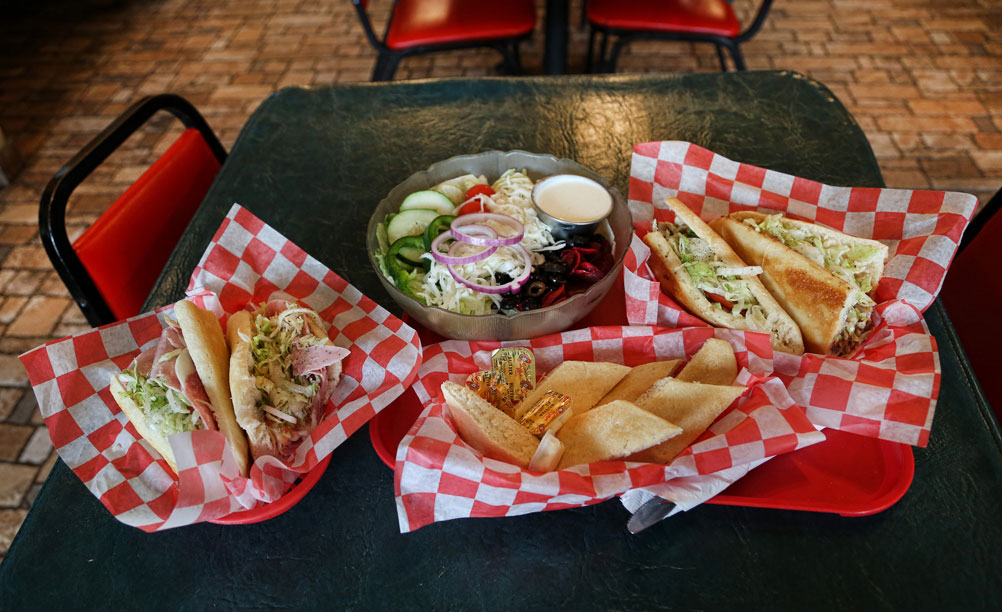 ---
If You Go...
Where: Brothers Pizzeria & Restaurant, 144 S. High St., Cortland
Phone: 330-638-6555 or 330-637-6154
Hours: 4 to 10 p.m. Sunday; 11 a.m. to 10 p.m. Monday through Thursday; 11 a.m. to 11 p.m. Friday and Saturday
By REBECCA S. NIEMINEN
Cortland
Angelo Pizzurro, one of the brothers of the local Brothers Pizzeria & Restaurant chain, believes in homemade food that's fresh. This motto permeates every bite of the delicious cuisine served at Brothers, whether it's the famous subs and pizza, or the homemade bread and sauce.
"We make our dough and bread fresh every day, and we make our homemade sauce every couple of days," Angelo said. "People appreciate that our food is homemade and fresh. We have a loyal clientele."
This was evident during my visit to the Brothers Cortland location as several regulars drifted in during the lunchtime rush and ordered their "usuals."
"We have people who have been repeat customers here for 20 years," Angelo said. "We've been at this same location on High Street since 1984."
In addition to the Cortland location, the Pizzurro brothers operate Brothers Pizzerias in Warren and Champion. The menus at all of the restaurants are the same.
Joe owns the Warren restaurant; Sal owns the Champion restaurant; and Angelo owns the Cortland restaurant and gets help from yet another brother, Frank.
Are you having trouble keeping all these brothers straight?
"There were actually seven brothers in my family and just one sister," Angelo clarified with a laugh.
The Pizzurro siblings were born in Sicily and lived there until their parents immigrated to the United States during the 1960s and settled in New York City.
Pizzurro was just a child then. He grew up in New York City and worked in restaurants in Philadelphia and Harrisburg before moving to Cortland and opening the first Brothers Restaurant.
"We are probably most known for our subs and pizzas," Pizzurro said.
I sampled two of the famed subs: the cheesesteak hoagie ($7.25), and the Italian sub ($6.80).
Both were equally delicious.
The cheesesteak hoagie features steak, grilled onions, lettuce, tomatoes and mayonnaise pressed between two slices of that warm, soft, delicious homemade bread.
The Italian sub consists of German salami, deli ham, provolone cheese, lettuce, tomatoes, onion and oil and vinegar. The lettuce and seasoning taste spicy and light, while the meat, cheese and bread are stick-to-your-ribs hearty and filling.
Brothers offers more than 30 types of subs and sandwiches, including tuna, meatball and grilled chicken.
The restaurant's pizza selection is just as extensive. In addition to the traditional pizzas, which feature either a thick Sicilian crust or a thin crust, there are specialty pizzas such as bruschetta, ricotta, garden and the famous white pizza.
I sampled both the white and garden pizzas, as well as a traditional pepperoni pizza.
The white pizza is prepared with a special blend of garlic, herbs, hot peppers and mozzarella. It's hot and spicy, but not so lethal that four-alarm fire alarms will blare between your ears. It offers just enough kick to make things interesting, but doesn't overwhelm.
I was an instant fan of the garden pizza. The tangy, creamy white sauce and the al dente vegetables blend perfectly with the thin, doughy crust.
A 12-inch specialty pizza is $12.65, a 14-inch is $13.65, and a 16-inch is $15.
The traditional pizzas are tasty as well, prepared with a special sauce and your choice of all the usual toppings (pepperoni, mushrooms, onions, etc.).
You know that old joke about visiting your Italian grandmother and not leaving her house until you are stuffed to the gills with food? Well, this is what happened to me during my visit to Brothers Pizzeria & Restaurant.
In addition to pizza and subs, Angelo and his daughter, Francesca Rhodes, who also works at the restaurant, offered me a salad, Stromboli, lasagna and meatballs smothered in marinara sauce.
I was happy to oblige in sampling these delights, although I was perhaps five pounds heavier as I exited the restaurant.
The garden salad's ranch dressing, which Rhodes makes daily, is pure perfection. It's zesty, creamy and so much better than the stuff you buy in a jar at the grocery store.
"We use the ranch dressing on some of our pizzas and also as dipping sauce for many of the entrees," she explained.
The Brothers menu features eight salads, with everything from tuna, to steak and grilled chicken. The salads are big and range in price from $5.25 to $8.95.
The Stromboli ($8.75), which was gigantic even though it was "small," was a pleasing blend of chicken, vegetables and mozzarella cheese.
The lasagna ($10.45) is one of many traditional Italian dinner entrees on the menu. It features hearty layers of ground beef, pasta noodles, ricotta, romano and mozzarella cheeses.
Other popular dinner entrees include linguini with clam sauce ($10.45), meat ravioli ($8.75), eggplant parmesan (11.25), veal parmesan ($11.25), and spaghetti with meatballs ($9.45).
Speaking of meatballs, you can get two meatballs with any dinner for an extra $1.75. They are delicious, and oh, that homemade marinara sauce is divine.
"When I cook a batch, I use a huge pot," Angelo said.
Angelo's tendency toward heartburn causes him to cook the sauce for an extra amount of time to reduce the acid.
"The trick is how long you cook the sauce," he said. "I have a sensitive stomach, and a lot of sauces will give me heartburn, but you will never get heartburn from this sauce. If you cook the acid out, it won't upset your stomach."
The Cortland location seats about 50 people, and also manages a bustling carry-out business.
"We also deliver within a four-mile radius," Angelo said.
Every Friday, Brothers Pizzeria & Restaurant has a broiled or fried cod special for $9.45.
The Cortland location accepts cash-only payment, no credit or debit cards.
More like this from vindy.com