Davidson, Franken lift Clippers
COLUMBIANA VS SOUTH RANGE BASEBALL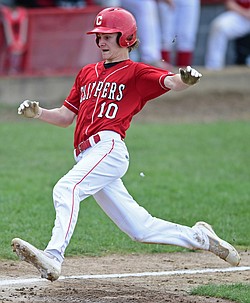 Gallery
COLUMBIANA VS SOUTH RANGE BASEBALL
By Greg Gulas
COLUMBIANA
Mitch Davidson tossed a five-hitter and freshman Chase Franken had two hits and two RBIs to lead the Columbiana Clippers to a 4-2 win over South Range in an Inter-Tri County League, intra-division clash Thursday at Firestone Park.
Davidson (2-0) needed just 85 pitches to dispose of the Raiders.
Photo Gallery: Columbiana Vs South Range
"It's definitely a lot easier to pitch when you have the lead. Our infield played well overall, fielding the ball and making the big play when we needed it," Davidson said. "I threw my curveball a little more than I wanted to, but kept it low and the end result was a pop-up. My fastball ended up in the dirt a few times, but I still used it when I knew that I had to get a little extra on it.
"I have to credit my catcher, Keenan Green, because he called a great game and we were on the same page the entire game. I think I shook him just one time."
The Raiders (9-4) got on the board first, taking a 1-0 lead in the opening inning when Jack Bajerski, who began the game with a single, raced home on Davidson's wild pitch.
Franken's two-run single in the second gave the Clippers (11-1) the lead for good and when Seth Ross scored on Raiders pitcher Kelly Keenan's wild pitch, Columbiana opened a 3-1 advantage.
"All I wanted to do was put the ball in play. I didn't square it up like I wanted to, but it did the job," Franken said. "It was a fastball high and away and did end up in play. I'll take that any time."
The Raiders cut into the Columbiana lead, making it a 3-2 game in the fifth inning when Anthony Ritter walked, advanced to third base on a single by Brycen James then raced home when Bajerski reached on an infield error.
Columbiana got the run right back in their half of the fifth inning when Vince Vivo, who also had two hits, singled home Green for a 4-2 advantage.
"I thought that Davidson did a terrific job today. He kept our hitters off-balance and was able to pitch backwards to a lot of our hitters, specifically to the top half of our order," Raiders head coach Jim Hanek said.
Clippers head coach Ryan Wolf was pleased with Davidson's effort.
"Mitch has always been the guy. When we need something we put it on his back and he carries us," Wolf said. "He really showed a lot of poise today. He also did a great job of getting ahead of hitters, pitching to contact. He wasn't trying to strike batters out. He had good ball movement and worked ahead in the count and when he fell behind, he just fought back."
Wolf added that Franken isn't playing like a freshman. "He's a freshman but doesn't act like one," Wolf said. "He knows the game better than anyone I've seen or been around as a high school player. You can tell that he plays and watches baseball and does a really good job. You don't look at him when he plays and think that he's 15 years old and a freshman. He's little in stature, but he's got some explosion and understands the game."
More like this from vindy.com