4 seeking Dem nod for council president post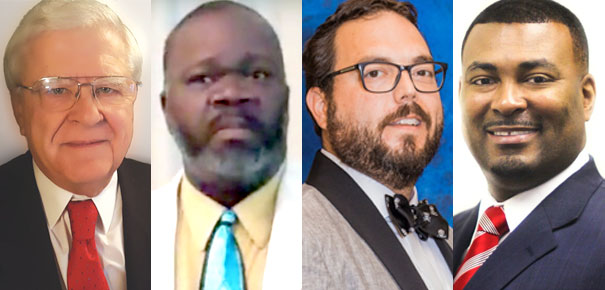 ---
SEE ALSO: • Youngstown mayor has substantial financial lead over challenger
• 4 well-known candidates want to be Niles Municipal Court judge
By DAVID SKOLNICK
skolnick@vindy.com
YOUNGSTOWN
While the city council president's job responsibilities are minimal, the four candidates seeking the Democratic nomination for the post want to do much more if elected.
Running in the May 2 Democratic primary are:
4th Ward Councilman Mike Ray, 40, who's served in that position since December 2010 and also is a technical service supervisor for AEP/United Sciences Testing Inc.
John R. Swierz, 71, a former council president, 7th Ward councilman and a retired firefighter. He unsuccessfully ran in the 2005 Democratic primary for mayor.
DeMaine Kitchen, 39, a former 2nd Ward councilman and chief of staff to the mayor when Charles Sammarone ran the city. Kitchen also is a self-employed insurance agent and lost the 2013 mayoral race as an independent.
Young Tensley, 56, a political newcomer who is working toward a bachelor's degree in religious studies at Youngstown State University.
The primary duty of the president is to run council meetings. Council president also is the successor to the mayor should the city's top elected official leave before his term expires. That happened only once in the 94 years since the city charter was adopted when Jay Williams resigned Aug. 1, 2011, to join the administration of then-President Barack Obama and Sammarone became mayor.
"The president of council doesn't get a vote, but it doesn't mean the person can't take action," Ray said.
If elected, Ray wants to continue focusing on increasing public safety, economic development and demolishing vacant houses as well as have the city put resources into making reliable internet access available to its residents.
Swierz says council president should act as an intermediary between council and the administration if there is a conflict between the two entities.
"The president of council has a voice," he said. "I wouldn't be afraid to bring up issues."
Among the issues he'd call for are discussions of joint economic development district agreements with surrounding townships, and regionalization to reduce duplication of services.
Kitchen would push for an expansion of the Community Initiative to Reduce Violence program to launch a "fatherhood initiative."
The program would encourage fathers to actively engage in the lives of their children to help improve academic performance, stabilize neighborhoods, reduce incarceration and help with job preparedness, he said.
Tensley, a member of the Frackfree Mahoning Valley group that opposes fracking in the city, said he wants to protect Youngstown's water system. He also wants the city to develop a plan to bring a full-service grocery store to parts of Youngstown not served by one.
All four candidates said they don't have an issue with the city's using water and wastewater funds for economic development projects as long as investments also are made in infrastructure.
Kitchen was asked about a December 2013 report from an investigator hired by the city who concluded Kitchen sexually harassed Lyndsey Hughes, then a city employee. Kitchen resigned as chief of staff four days before the report was released.
The report included an admission from Kitchen he made inappropriate remarks to Hughes. She received $72,000, and her attorneys were given $48,000 as part of a settlement that also included her not keeping her job. The city paid $50,000 of the cost, with its insurance company paying the rest.
"It was an HR [human resources] issue; it wasn't a criminal issue," Kitchen said. "The report says there was verbal sexual harassment. I've taken full responsibility and apologized for that."
Kitchen added: "When people see me, they see someone who overcomes and perseveres. The key isn't making a mistake, it's overcoming it."
Kitchen also was asked about accepting a $4,000 cash contribution from Sammarone during the 2013 election. State law doesn't permit cash contributions of any amount more than $100.
The Ohio Elections Commission ruled in November 2014 that Kitchen committed a violation by filing a late campaign finance report, but didn't punish him for accepting the cash. Kitchen said he didn't know taking that amount of money was illegal and the only reason it was learned was because he included it on a campaign finance report.
"I thought I could take $4,000 in cash, I reported it, and the state ruled I was not in violation," he said. "It demonstrates to the public that I didn't violate the public trust."
More like this from vindy.com