Mortals Key offers destiny of outstanding craft beer TRUE PASSION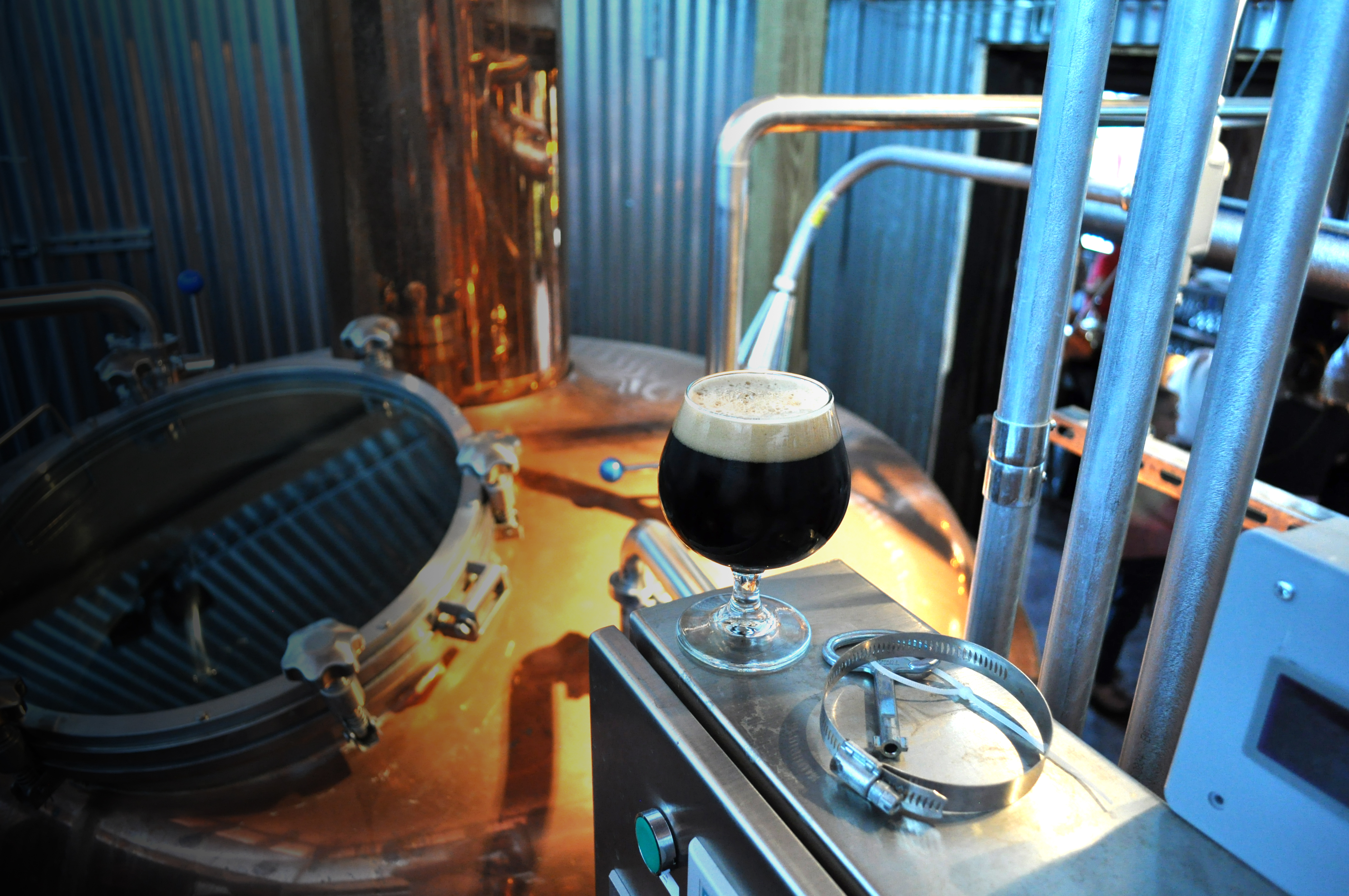 ---
If You Go...
Brewery: Mortals Key Brewing Co.
Address: 4224 East Lake Road, Jamestown, Pa.
Website: www.mortalskey.com
Hours: Fri. 3 to 9 p.m.; Sat. noon to 9 p.m.; Sun. noon to 6 p.m.
Available for Purchase: Flights, pints, growlers, crowlers, merchandise and food
BY Jim Cyphert
Mahoning Valley Flight Crew
Mortals Key Brewing Co. embodies the belief that everyone has a destiny, and the ability to pursue their true passion is just waiting to be unlocked.
Like the Mahoning Valley Flight Crew, Mortals Key co-owner Bruce Woyt's true passion is delicious craft beer.
Judging from our experience at the brewery, almost anyone who goes there will be able to feel the passion behind the beer.
Mortals Key sits on the edge of Pymatuning State Park, just off the shore of the reservoir, housed inside a refurbished tractor barn.
A giant copper ankh, the ancient Egyptian symbol for life, is displayed inside the brewery, and smaller versions decorate glasses and merchandise. It's a fitting motif for the company.
"Mortals Key represents where we are in life," Woyt said. "We're all enjoying life and we want to help others do the same."
From the moment we entered the brewery, the hospitality was top-notch. Woyt warmly welcomed us, and introduced us to Doug Shannon, his business partner and owner of the neighboring Lago Winery.
Shannon owns the land for both the brewery and the winery, and began discussing opening the brewery with Woyt more than four years ago.
"Many men visiting the winery were interested more in beer than wine," Woyt said. "We had an opportunity in front of us."
The brewery has seen steady growth since it opened last June. Beer is served on-site, but small-scale distribution options are being explored.
Woyt then introduced us to Nick Hasselback, whose sole mission was to take care of the Flight Crew, at which he excelled.
As we began sampling, we realized that Mortals Key's beers are refreshingly simple. They brew according to the Reinheitsgebot, also known as the "German Beer Purity Law," a series of regulations limiting the ingredients that can be used when brewing beers.
"With few exceptions, we use only four basic ingredients in our beers: water, yeast, malt and hops," Hasselback said.
In line with the simplicity of the brewing process, the beers have no names other than their styles. Eight beers were on tap when the Flight Crew visited: Kolsch, Brown Ale, Scotch Ale, Pale Ale, Winter Ale, Spiced Winter Ale, India Pale Ale and Imperial Stout.
Smiles stayed on our faces as the beer samples kept coming. We sampled each of the eight beers in the lineup, and didn't find a dud; this is to the credit of Shawn McIntyre, brew master, who has more than 20 years of brewing experience, including time at the Church Brew Works in Pittsburgh and North Country Brewing Co. in Slippery Rock, Pa.
To finish off the samples, we each had a full-beer of our favorite.
Here's what the Flight Crew had to say:
India Pale Ale (6.6% ABV, 66 IBU)
Roger Gillespie: "I could have chosen any of the beers we sampled at Mortals Key, but I claimed the India Pale Ale as my favorite. With a modest IBU of 66 and an ABV of 6.6 percent, this earthy brew was perfectly paired with my delicious hamburger platter. A growler for home was the perfect finishing touch."
Brown Ale (4.7% ABV and 22 IBU)
Joe Sanfilippo: "Although all eight beers were very good, my favorite of the afternoon was the Brown Ale. I couldn't pass up a pint after taking a tour of the brewery. Light in color, the Brown Ale features Crystal and Munich malts, and comes in at 4.7 percent ABV. Very pleasant and quite drinkable, I enjoyed this one with the shaved prime rib sandwich. It was a great combination."
Spiced Winter Ale (7.7% ABV and 65 IBU)
Dave Shively: "My choice was the Spiced Winter Ale. It was the only beer we sampled that contained more than the four basic ingredients, which are a staple of the brewery's recipes. With subtle hints of nutmeg and cinnamon, this caramel-colored ale was both warm and cold, on an April Fools Day when Mother Nature was still fooling us with temps in the high 30s. This ale invites you to curl up next to their indoor fireplace, and it was great with the barbecue pulled pork sandwich."
Pale Ale (5.1% ABV, 55 IBU)
Jason Jugenheimer: "When brewing using just the four traditional ingredients of beer, you hope to develop a vehicle for the characteristics of the ingredients to be showcased. Mortals Key nailed it with the Pale Ale. The Galaxy hops really allow the citrus and peach notes of the hop to shine. It's crisp and clean and at 55 IBU, it's not overly hoppy. Fans of hops will enjoy how it lingers on your palette. It paired well with the brisket platter."
Imperial Stout (8.4% ABV, 65 IBU)
Jim Cyphert: "I was pleased the Imperial Stout was available when it was my turn to select. It was a dark vision of beauty as Nick poured it into a tulip glass. A rich aroma exuded from my glass, and that richness continued as I took my first sip. Hints of chocolate and coffee lingered on my palette for a bit. If you're a lover of stouts, chocolate and coffee, you've got to give this a try. I enjoyed it with the barbecue pulled pork sandwich."
Kolsch (5.1% ABV, 24 IBU)
David Anderson: "The German-style Kolsch is brewed with three German Noble hops and two-row malted barley. The beer was a nice golden color and the hops were there in the aroma. I couldn't wait to dive in. I was not disappointed. This was very crisp and a great way to start the tasting. Later, I had to have another pint of the Kolsch to pair with the Loaded Mac & Cheese (topped with delicious pulled pork) I ordered from the kitchen. What a great afternoon!"
The Mahoning Valley Flight Crew recommends heading over to Mortals Key to unlock your destiny and passion for great craft beer.
More like this from vindy.com