Phantoms vets ready to roll
Phantoms Hockey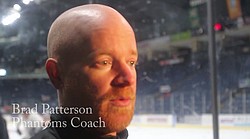 Video
Phantoms coach Brad Patterson talks about upcoming playoffs.
By Tom Williams
YOUNGSTOWN
Good things come in threes (Stooges, Tenors, Amigos, hat tricks).
The playoff-bound Youngstown Phantoms have a special three, a trio of survivors who fully appreciate just how far the team has come in the past 20 months.
"We feel we have a really close-knit group — we say family with a 'ph' [ph-amily]," captain Tommy Apap said after Wednesday's practice at the Covelli Centre.
Apap and the Esposito brothers — Alex and Eric — are the only players remaining from last year's fifth-place team that missed the postseason. In the USHL, the top four teams advance to the Clark Cup Playoffs.
It was an offseason of change. Brad Patterson replaced John Wroblewski as head coach. Seven players came back to training camp in August.
"In the summer, we [thought] we'll have a young group," Apap said.
They became even younger as veterans Garret Hall and Carter Ekberg were released before the season began. By the trading deadline, Ty Farmer and Noah Lalonde had departed.
"Ton of new faces, different personalities, but not a huge atmosphere change," Apap said. "Once we saw [goaltender Ivan Kulbakov play], we thought, 'This guy is our goalie.'
"We were excited, we felt we've got a good shot."
The Phantoms (34-20-6, 74 points) are in the playoffs for the fourth time in eight seasons. They finished in fourth place and will play the top-seeded Chicago Steel (38-17-5, 81 points) in a best-of-five series that begins Friday in Illinois.
"Statistically, we're underdogs," Apap said. "But we've beaten them three times so we're not worried."
The Phantoms won the regular-season series against the Steel, 3-2.
"They are high-skilled, they are high-octane, they are very deep — one through four lines, they can all score," Patterson said. "They are very mobile.
"We're going to have our hands full."
The Phantoms play a much more physical game and don't mind low scoring contests.
"The guys in there are confident," Eric Esposito said of his locker room. "I'm confident — I wouldn't call us the underdogs.
"The way we play, the way they play, we clash pretty hard," Esposito said. "I think they were hoping to play somebody else."
The Steel won their first 10 games of the season, suffering their first loss on Oct. 30 when the Phantoms won 3-2.
Alex Esposito, who has scored five goals in the past six games, said his teammates remember what worked.
"They were riding high and we take pride that we were the team to give them their first loss," he said. "Our nasty attitude, I'd say, helped.
"They are more of a skill team that wants to make plays."
Kulbakov, who hails from Belarus, is the team's MVP, posting a 30-16-4 record.
"I can confidently say he's probably the best goalie I've ever played with, maybe even against," Eric Esposito said. "He's shown us even in practice how special he really is.
"I just hope we don't take him for granted."
Patterson said the USHL season has parity at the top.
"In mid-February, I think there were four points that separated five teams," Patterson said. "Everyone played each other tight.
"There is no question in my mind that anybody on any side could walk away with the Clark Cup."
If the Phantoms can restrict the Steel's potent offense, Alex Esposito said Kulbakov gives them a chance to steal a road game.
"Any team can get hot and take a run," he said. "If you can ride a hot goalie and put the puck into the net a little bit more, we can really make a great run.
"This could be something special."
The playoffs will be the final Phantoms games for Apap (Michigan State) and Alex Esposito (Vermont). Eric Esposito will return for a third season.
More like this from vindy.com