Burgers create flavor rebirth PHOENIX RISING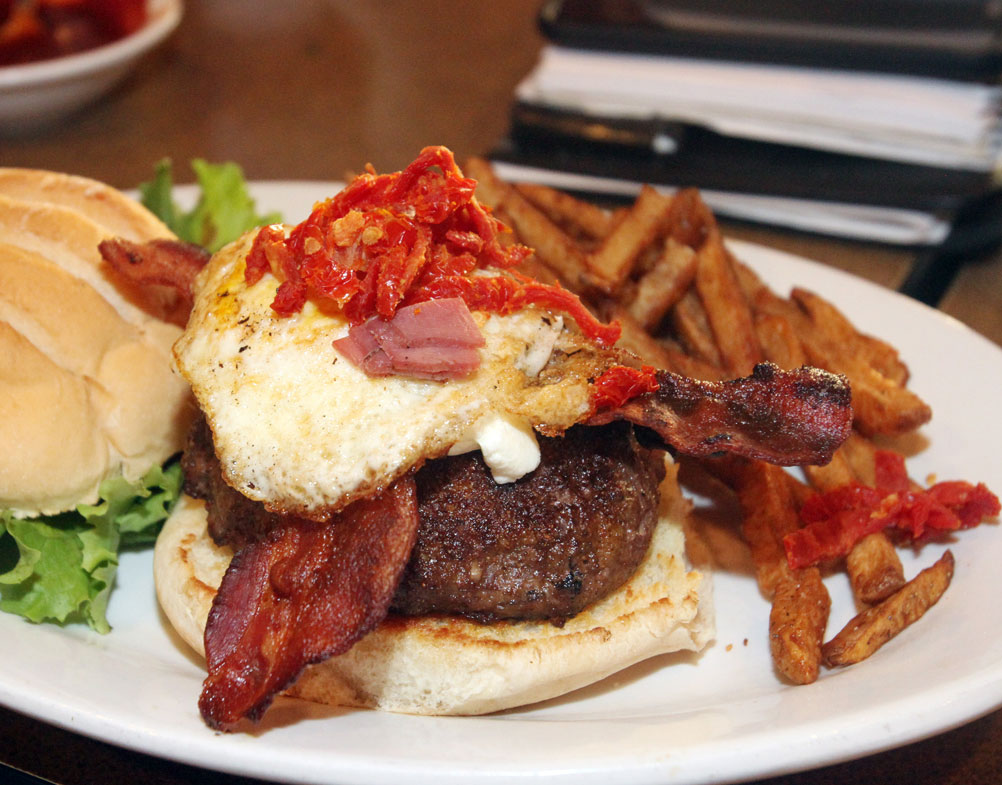 ---
If You Go...
Where: Phoenix Fire Grill & Bar
Address: 5231 S. Canfield-Niles Road No. 1, Canfield
Telephone: 330-533-9999
Hours: 11:30 a.m. to 10 p.m. Monday through Thursday; 11:30 a.m. to 11 p.m. Friday and Saturday; and noon to 8 p.m. Sunday.
Menu: Six burgers ($7.75 to $8), plus daily lunch specials
Website: phoenixfiregrillandbar.com
Rating: 4 1/2 stars
BURGER GUYZ PHOENIX FIRE GRILL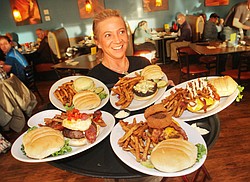 Gallery
BURGER GUYZ PHOENIX FIRE GRILL
By: Anthony Fuda
A phoenix rises from the ashes to be born anew, a symbol of rebirth and regeneration ...
Just like the phoenix rises to create something magical, the Phoenix Fire Grill & Bar in Canfield has a burger that rises from the grill and creates a mystical taste in your mouth.
The delicious burgers might start out as ground beef, but a little seasoning, hand-formed patties and a talented chef ready to cook that burger to your liking, and all those ingredients are transformed into a magnificent meal your stomach craves.
Our group made its way to a table in the middle of a packed restaurant, where we could enjoy the surroundings as well as our meals. We looked around and plate after plate of olfactory-pleasing food floated past us.
Owners Lauren and her husband, Terry Kaleel, found out the BurgerGuyz were in for a review, came over and introduced themselves, and told us that the burgers are always fresh and made-to-order with the freshest ingredients and toppings, and that the most-ordered burger was the Chipotle Ranch Bacon Burger.
So we located the burger section of the menu and were pleased with the selection of half-pound delights:
Cheeseburger
Black-N-Bleu Burger (Cajun spices, roasted garlic, melted bleu cheese)
Goat Cheese Bacon Burger (goat cheese, bacon, fried egg, sun-dried tomato)
BBQ Bacon Cheddar Burger (barbecue sauce, bacon, cheddar cheese, two onion rings)
Chipotle Ranch Bacon Burger (bacon, American cheese, crispy onion straws, chipotle
Angus Beef Sliders (American cheese, pickle)
And a burger on the specials menu:
French Onion Burger (caramelized onions, melted Swiss cheese, French onion spread, on grilled Texas toast)
Sides are extra, and you can choose fries ($1.55), onion rings ($2) or sweet potato fries ($2).
I saw the Goat Cheese Bacon Burger and stopped right there. Two of my favorite ingredients — goat cheese and bacon — on my burger was sure to make my evening great. And it did. Add a fried egg and sun-dried tomato pieces, and there was a flavor explosion in each bite. The beef was cooked perfectly, juicy and well-seasoned. I took my first bite, and all those flavors worked very well together. The egg dripped yolk, covering the beef and adding an additional delicious taste to my senses. Combining that with the tart sun-dried tomatoes and crispy bacon would have been enough. But then you bring in the creamy goat cheese, and I was in burger bliss. I can feel my stomach saying "Take me back for more, please!"
Spatman chose the burger from the weekly special menu, the French Onion Burger, saying, "The meat was seasoned nicely and grilled well, but still juicy. It was topped with homemade French onion sauce and caramelized onions — a topping I truly enjoy, and these were fantastic. Then they added melted Swiss cheese, which delivered a taste sensation that left me reluctant to put it down. The Texas toast was a nice alternative to a standard bun and held up to all the juices the beef had seared in. A 4.5 on my wet-nap scale."
Eric went with the restaurant favorite, the Chipotle Ranch Bacon Burger, remarking, "After just one bite, I understood why it was so popular. Just the initial sight of this thing towering over my plate was intimidating, but I wasn't about to back down. The mix of flavor came together very well. Between having some of the crispest bacon I've ever had the pleasure of tasting, a pleasurable mix of a chipotle sauce, and beef that was no doubt some of the freshest out there, I can't hold this burger in high enough regard. The grilled bun helped to keep everything in order. Once I finished the first half, I kicked it up by adding some heat with a slathering of the Phoenix Rising Hot Sauce, typically reserved for the amazing wings. Yet again, I was surprised by how splendid the taste was. The combination of sweet and heat made an excellent pairing on an already stupendous hamburger. Maybe one day we'll see it implemented on a new burger."
JT also had the Chipotle Ranch Bacon Burger and said, "This was a great burger. A masher — a burger stacked so high with toppings, you have to either dislocate your jaw to eat it or mash it down. The chipotle seasoning was fantastic! Overall, a delicious, savory burger." Scott's choice for the evening was the BBQ Bacon Cheddar Burger, and he noted, "This burger came out exactly how I ordered it. The beef was juicy and had great flavor. There was enough barbecue sauce to bring out even more flavor but not smother the burger. Put a couple nice pieces of bacon on top and this was a well-rounded meal."
If you are tired of the same old burgers and are looking for a burger rebirth, stop in to the Phoenix and have one of their delicious burgers. Start with an appetizer of their cornmeal-breaded wings with the sauce of your liking. We did, and they were crispy and tasty, and just enough of a tease until our burgers arrived.
Keep reading the Valley Food section each Wednesday for the best food the Valley has to offer. If you think you know where the next Burger of the Year is, send the info to BurgerGuyz@hotmail.com or visit our Facebook page BurgerGuyz.