UPDATE | Witness says Seman's courthouse plunge shook the building
Seman Suicide Security Footage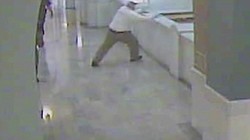 Video
Official Seman Suicide Security Footage
Asst. Prosecutor and Sheriff discuss Seman death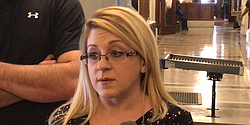 Video
Dawn Cantalamessa and Jerry Greene discuss Robert Seman jumping to his death earlier this morning.
YOUNGSTOWN — A worker in the Mahoning County Courthouse said the impact of Robert Seman's body Monday morning hitting the marble floor of the courthouse after falling four floors shook the building.
The leap from the fourth floor to the rotunda below cancels one of the most highly publicized murder trials in county.
VIDEO: Seman Suicide Security Footage
VIDEO: Asst. Prosecutor and Sheriff discuss Seman death
The 48-year-old Seman of Green Township, faced the death penalty if convicted of the March 31, 2015 deaths of Corinne Gump, 10 and her grandparents, William and Judith Schmidt, in their Powersway Avenue home just hours before Seman was to go on trial for raping the girl.
Seman, who is listed in jail records as being 5'10 and 260 pounds, was coming from a final status hearing in his case that was set to begin Wednesday in Portage County Common Pleas Court when he jumped to his death. A deputy could be heard shouting, then Seman, could be seen hurtling through the air.
Stunned courthouse employees and visitors made their way to the first floor or watched from above as Seman lay motionless on the floor on his side. One of his two attorneys, Tom Zena, felt for a pulse and later said there was a faint one as a woman in medical coveralls also tried to give Seman aid before paramedics arrived, rolled him over, and placed a white sheet over his body. His face was purple with bruising and his skin was already going pale when they arrived.
Some workers hugged each other and some cried. One prosecutor who was there said, "That was an evil, evil man," before turning away.
Lisa Cappitti, stepmother of Corinne, said she was full of emotions after she heard the news. She said she feels bad for Seman's parents and children who are close to her family and do not deserve the negative attention that the case has generated towards him.
"It's sad," Cappitti said. "There's no justice at all. We don't know what to feel."
Both the lead prosecutor on the case, Dawn Cantalamessa and Zena both said they were stunned that Seman took his own life.
Jury orientation in Seman's capital murder trial was to begin April 12 in Portage County Common Pleas Court.
The trial of Seman, 48, of Green, was being moved to Portage County after attempts to pick a jury in September and January in Mahoning County were unsuccessful because of pretrial publicity.
More like this from vindy.com