Drund helps Cavaliers connect with fans
Drund Cavs App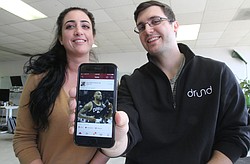 Video
Local software developer Drund and the Cleveland Cavaliers have released Wine And Gold Nation. An App for Cavs fans.
By Kalea Hall
BOARDMAN
Ohio isn't just a place where legends like LeBron James are born. It's a place where technology is born.
Now the Cleveland Cavaliers have combined both to connect with fans and have fans connect to the team.
The defending NBA champions are doing this with their Wine & Gold Nation website and app for iPhones and Android devices created by Boardman-based Drund, a social media platform developer.
"It's just another example of us trying to continue to enhance the fan experience," said Mike Conley, vice president of digital for the Cavs. "We are very civic-minded. We are beyond thrilled to [connect] with a local software developer."
Drund's offices are at 945 Boardman-Canfield Road Suite No. 8, where several Youngstown State University graduates working hard at their passion every day.
Lee Yi, formed Drund in 2010. Drund honed in on giving school districts their own social media platforms. Districts in Mahoning and Trumbull counties use Drund.
Now, the Drund platform is being used by Cavs fans everywhere.
"Peop le can stream games," said Kevin Krpicak, lead front-end developer at Drund and a YSU graduate. "We have a normal feed where you can post pictures. We have albums. We have topics, which are forums."
It's the same Drund-powered community school districts use, but it's geared to the Cavs with special features the team wanted.
"We really want to create a generation of cradle-to-grave fans," Conley said. "We are really excited to have it out. It's just another commitment from us to bring leading-edge technology to our fans."
Wine & Gold Nation offers four membership groups designed for different ages of fans – Cavalittles, Cavs Kids Club, Cavalry and Wine & Gold Nation. Each fee-based membership offers different perks. If you don't want the perks, you can still download the app for free and have access to the community.
While other social media platforms are still important to the Cavs' brand, with Wine & Gold Nation, the Cavs can engage with fans on a platform that's all Cavs all the time.
"It's a way to meet their needs and help solve the problems of being able to reach their audience in a better way," said Lia Cunningham, community coordinator for Drund.
Drund has other large projects in the works with national brands all operating from its Boardman office.
"There's a great benefit to stay and grow here from a cost of living and supportive community stand point," Yi said.
More like this from vindy.com