YSU journalists define leaders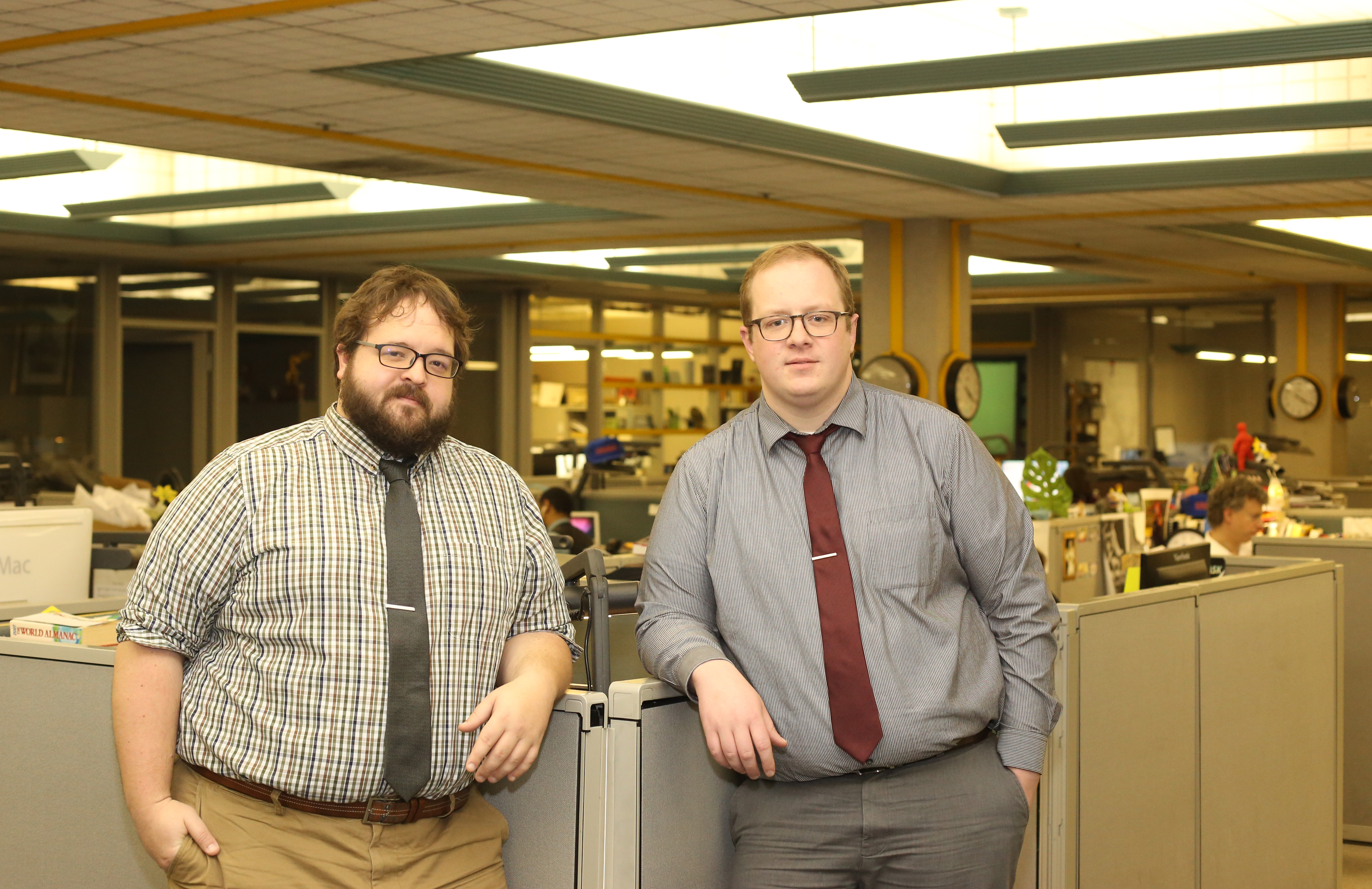 ---
When Youngstown State University competes in anything, it is common to try to measure up to its Ohio and Midwest neighbors – often the bigger and wealthier neighbors.
You know the likes: Ohio State, Kent State, Michigan, West Virginia, Miami, etc.
The most normal measure is in athletics, and the most normal, understood result is a loss. It is what it is, right?
That's why YSU's victory Thursday night stands out a bit.
The win wasn't on the WFMJ sportscast or in our newspages.
But it was, oddly enough, news; actual news.
The Jambar is YSU's student newspaper. They just won fairly prestigious reporting awards competing head to head against the above schools.
As the media landscape has exploded in the past few years with more tools, more outlets and more usage, YSU has been fairly active harnessing the media-creation abilities within staff and students and doing great things.
I spoke Thursday night to communications students at an annual banquet at Rachael's Restaurant in Austintown and teased that their strength is becoming a problem for me:
Back in December, The Vindicator team was busy covering YSU's playoff football run. And as we cover the news, we also consume that same news – trying to keep up with all the angles and options. One place I kept finding things that we didn't have access to was YSU's student media producers. There was insightful football coverage that we didn't have. In the old days, we'd work hard to ignore such coverage existed. Today – you can't. It's out there on social platforms; it's accessible; and it's good.
As this media ability grows everywhere, YSU abilities have grown with it.
So The Jambar's win is well-earned.
The Society of Professional Journalists recognizes the best collegiate journalism with its Mark of Excellence Awards. YSU's region includes all schools in Ohio, Michigan, West Virginia and western Pennsylvania. There are only two divisions – large and small. YSU is in the larger group, thus it competes with heavy hitters. If you think those schools are good in football and basketball and the like, they are just as good at media. (At University of Michigan, a journalism program is named after Mike Wallace of "60 Minutes." You might have heard of him.)
The Jambar was the winner in general-news reporting with its project, "YSU Struggles With Poor Morale Among Its Professors" written by Samantha Phillips, Justin Wier and Dan Hiner.
It was a top-3 finalist for in-depth reporting for "Being Black At YSU" written by Justin Wier, Liam Bouquet and Christina Young.
The Jambar rounded out its showing as a team with a top-3 finish in editorial opinion writing as its senior leadership addressed campus issues.
The first-place "professors morale" story will compete in a national SPJ judging in the next few weeks.
Especially rewarding is that two of the honorees – Wier and former Jambar editor Graig Graziosi are now my coworkers in The Vindy newsroom. Their passion and skill arrive every weekday to serve the Valley.
I had the weird pleasure of sitting next to YSU journalism professor Mary Beth Earnheardt as she read her email Thursday evening. Weird in that how often is an award event interrupted and surprised with news of such a prestigious honor – like stopping a quarterback in mid-game to tell him he won the Heisman Trophy.
"We never win in this," she said as she rose to tell the group. As she shared the news, she told the 100-ish folks "This is against big friggin' schools."
While that was hardly dissertation speak, it was an A-plus on raw excitement for an event the school has not experienced in at least the past 20 or so years. We talked more the next day on the uniqueness of not just one honor, but three:
"Every Jambar leadership group has its own personality. This group has big questions about life, and they are curious. They are competitive, but they genuinely like each other and support each other's work. That worked for us this time."
When you consider the themes of the winning stories and the historical nature of institutional operations, it's natural to wonder what repercussions came after their work.
"Nothing," said Wier.
Further, he said, there was never any dodging or delays in the next subsequent stories with university leadership. Such dodging is typically code for "I'm done with you." Knowing there are always feathers being ruffled somewhere on campus and a "no-confidence vote" always gurgling beneath the surface, no Jambar backlash is good testament to a generally healthy campus climate.
It's also good testament to the next generation of storytellers and community protectors – which is part of what journalism is. We watch out for the community in our own, albeit not always perfect, way. Imperfect, but reliable.
My theme Thursday to the group was that the reliable media structure of my youth – which was the daily newspaper, the Bob Blacks, Mike Wallaces and Walter Cronkites – is shrinking and in jeopardy.
It is no coincidence that this is happening as there is a surge in millions of Americans being duped by fake news.
Where there is a void, something will fill it. In Iraq, it's called ISIS. In journalism, it's called fake news.
Most discouraging of fake news is how it was allowed and permitted by supposed media leaders of our day such as Facebook, YouTube and Google. The media leaders of my youth might get burned once by such incidents. But just once.
These new groups are positioning themselves as profiteers, not leaders, when they allow fake news to happen.
The Jambar honors – that defines leading.
Todd Franko is editor of The Vindicator. He likes emails about stories and our newspaper. E-mail him at tfranko@vindy.com. He blogs, too, on Vindy.com. Tweet him, too, at @tfranko.
More like this from vindy.com