Recipes of Youngstown will donate to YSU veterans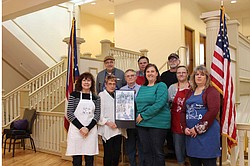 Photo
SPECIAL TO THE VINDICATOR: Mahoning Valley Historical Society will sell Recipes of Youngstown's third cookbook, along with the first two. In front, from left, are Linda Kostka, MVHS development director; Bobbi Allen, founder of Recipes of Youngstown; Donnie Allen; Leann Rich, MVHS external relations manager; Jo Ann Donahue; and Lisa Pavel. In back are Ernie DiRenzo, John Heasley and Jim Donahue.
Staff report
YOUNGSTOWN
The Facebook group Recipes of Youngstown has almost 10,000 members and has earned more than $100,000 from the sale of its two cookbooks.
The third cookbook, "From Mess Hall to Mom's Kitchen," is dedicated to military service members and will be published in May.
A portion of the proceeds will go to Youngstown State University Foundation to establish a scholarship fund for military veterans who are finishing their education at YSU.
The group will host a tasting session of several of the book's recipes at the Tyler History Center, 325 W. Federal St., from noon to 4 p.m. May 13.
The event will feature a cobbler contest, a basket raffle and prizes. Tickets are $5, and proceeds will benefit the scholarship fund.
"From Mess Hall to Mom's Kitchen" is $24, and can be ordered by calling the Mahoning Valley Historical Society at 330-743-2589, or visiting www.mahoninghistory.org.
The previous cookbooks also are available from the society, and the set of three can be purchased for $55.50.
More like this from vindy.com