MCCTC students tour Vallourec Star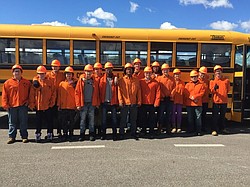 Photo
Neighbors | Submitted.MCCTC engineering students take a tour of a local oil plant to learn what it takes to become an engineer. Pictured are, from left, Charles Cole, Brandon Wareham, Austin Frank, Eric Cornelius, Ezra Lazar, Spencer Killian, Korron Devoe, Joshua Collins, Juan Gonzalez, Walter Baber (Engineering Instructor), Najii Robinson, Dylan Stephans, Alexandria Nall, Justin Lamancusa, Wesley Gilbert and Andrew Gretsinger.
Engineering students at the Mahoning County Career and Technical Center had the unique opportunity to tour Vallourec Star in Youngstown recently while learning about the importance of safety in the engineering field.
Vallourec Star is North America's leading producer of seamless Oil Country Tubular Goods (OCTG), Line & Standard Pipe, Coupling Stock and Mechanical Tube.
Sixteen students, along with Engineering instructor Walter Baber, spent most of the day learning about the different fields of engineering, what the salaries look like, as well as what is needed to get a job at a place like Vallourec Star.
"The students discovered the role safety plays in a large operation such as Vallourec Star," Baber said. "However, the real eye opener for the students was the need for skilled labor and the fact that Vallourec requires at least a two year degree for the majority of the positions at the facility."
Students that are enrolled in the engineering program at MCCTC get a taste of civil engineering, architecture, aerospace engineering, digital electronics, engineering principles and design during their junior year, then focus more on one for their senior year.
For more information about the Engineering program at MCCTC, visit http://mahoningctc.com/engineering-pltw-training-course.html.
More like this from vindy.com