Richards-Barcey wedding plans are announced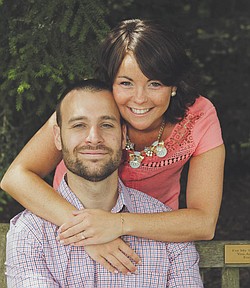 Photo
Christian P. Barcey and Taylor B. Richards
STREETSBORO, OHIO
Taylor Blaine Richards and Christian Paul Barcey, both of Streetsboro, are announcing their wedding plans.
The bride-elect is the daughter of Sharon Richards and James Richards, both of Youngstown. The prospective groom is the son of Tammy (James) Snyder of North Jackson and Matthew (Jodi) Barcey of Flint, Mich.
The ceremony is scheduled for 2 p.m. Oct. 17 at Pioneer Pavilion in Mill Creek Park. A reception will follow at 6 p.m. at A La Cart Catering, Canfield. Invitations are being issued for both events.
Miss Richards graduated from Youngstown State University with a bachelor's degree in general studies. She also graduated from Mount St. Joseph University with an associate degree in preschool education. She is working toward an endorsement in preschool special needs. She is employed by Mahoning County Educational Service Center and as a preschool teacher at Southeast Elementary School, both in Ravenna.
Mr. Barcey also graduated from YSU. He earned a bachelor's degree in electrical and computer engineering and works as a product development engineer for Pentair in Solon, Ohio.
More like this from vindy.com