Marino-French wedding plans are announced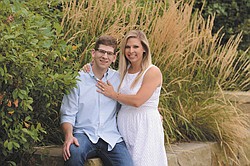 Photo
Steven French and Alexa Marino
POLAND
Joseph and Patricia Marino of Poland are announcing the wedding plans of their daughter, Alexa Marino, also of Poland, to Steven French of Roaming Shores, Ohio.
The parents of the prospective groom are William and Pamela French of Andover, Ohio.
St. James Meeting House in Boardman Park will be the setting for the 4:30 p.m. ceremony Oct. 14. A 6 p.m. reception will follow at The Lake Club. Invitations are being extended for both events.
Miss Marino earned a bachelor's degree in education from Youngstown State University and a master's degree in speech pathology from University of Akron. She is a speech pathologist for Trumbull County Educational Service Center. She also is an adjunct professor at YSU.
Mr. French graduated from Kent State University with a bachelor's degree in business administration. He is a materials manager for RTS Companies Inc. in Austinburg, Ohio.
More like this from vindy.com