Foundation's first fundraiser planned Oct. 8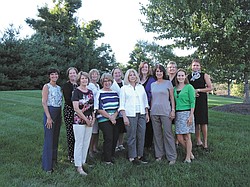 Photo
SPECIAL TO THE VINDICATOR Among those preparing for the First Eye Ball of the Mahoning Valley on Oct. 8 at Powers Auditorium are, in front from left, Vickie Pallotta, Virginia Gerberry, Fran Alexander, Cathy Progar and Stephanie Champlin; and, in back, founder Dr. Sergul Erzurum, Debbie Wilson, Barb Alexander, Susan Berny, Dr. Maureen Mahar Matthews, founder Karen Hauser and Stephanie McMurray.
Staff report
YOUNGSTOWN
The Sight for All Foundation will host its first fundraiser, the First Eye Ball of the Mahoning Valley, on Oct. 8 at Powers Auditorium, 260 W. Federal St. The black-tie event begins at 5:30 p.m.
There will be a live auction including a condo for one week in Curacao in the Caribbean, one week at St. Maarten and one week in Naples, Fla.; bilateral LASIK eye surgery correction; bilateral cosmetic eyelid surgery; and a photograph by local nature artist Pam Cohen.
Raffle tickets will be available for many items including two tablets, Juviderm cosmetic procedure, Botox cosmetic procedures, Latisse eyelash lengthener, 18 holes of golf at the Youngstown Country Club, massages, facials, cosmetic treatments, dinner certificates at local restaurants, wine tastings and more. Raffle tickets will cost $20 for one ticket or 10 for $100.
The Sight for All Foundation founders are Dr. Sergul Erzurum and Karen Hauser. Dr. Erzurum is associate professor of surgery at Northeast Ohio Medical University and vice chairman of Pediatric Eye Disease Investigator Group of Jaeb Research Center of the National Institute of Health.
Board members are Dr. Erzurum, Hauser, Dr. Jeff Cohen, Christine Gabrick, Dr. Mark McMurray, Mike McBride, Dr. Bob Gerberry, Doug Lewis and Erin Bishop.
The mission of the foundation is to create the opportunity for every person to achieve their best vision. It was created by doctors caring for patients who hope to organize the efforts of doctors, patients and community organizations to provide maximum services.
Sight for All has 30 optometrists and ophthalmologists in the tri-county area networking as Doctors for Sight to assist the program's success. The foundation will be housed at Goodwill Industries on Belmont Avenue. The web page is www.sightforall2016.com or email sightforall2016@gmail.com.
Committee members preparing for the event are Susan Berny, chairwoman of the event; Dr. Erzurum, Hauser, Stephanie McMurray, Stephanie Champlin, Cathy Progar, Vickie Pallotta, Barb Alexander, Fran Alexander, Dr. Maureen Mahar Matthews, Virginia Gerberry, Debbie Wilson, Lea Moody, Phyllis Bacon, Barb Woloschak, Jill Furrie and Nicki Furrie.
More like this from vindy.com