Demyan-Kowal wedding plans are announced
STRUTHERS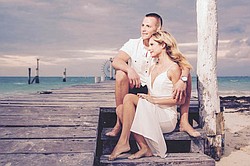 Photo
Matthew G. Kowal and Nicolette A. Demyan
Mr. and Mrs. Joseph S. Demyan of Struthers are announcing the engagement of their daughter, Nicolette Ann Demyan, to Matthew Gregory Kowal, both of Brighton, Mich.
The groom is the son of Mr. and Mrs. Roger P. Kowal of Youngstown.
The ceremony is scheduled for 1:30 p.m. Jan. 28, 2017, at St. Joseph the Provider, Campbell. A reception will take place at 6:30 p.m. at Stambaugh Auditorium. Invitations will be issued for both events.
The bride-elect graduated from Youngstown State University with a bachelor's degree in nursing. She is a registered nurse at the University of Michigan C.S. Mott Children's Hospital neonatal intensive care unit in Ann Arbor, Mich.
The prospective groom also graduated from YSU with a bachelor's degree in mechanical engineering. He is a suspension systems integration engineer for General Motors in Milford, Mich.
More like this from vindy.com