South Range stays unbeaten, routs Lisbon
By Brian Dzenis
LISBON
Lisbon vs South Range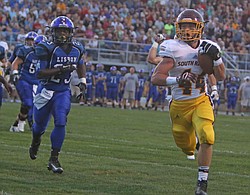 Gallery
Blitz Live | September 23, 2016

Podcast Episode
Take a trip through the Valley's week 5 High School football action with Blitz Live hosts Corey Crisan, Greg Gulas, and Sean Ferguson.
A matchup between two undefeated teams known for their dominant running attacks had all the makings of a great game.
What's on paper can be deceiving, as the game between Lisbon and South Range was a rout. In a game that drew a lot of eyeballs from around the Mahoning Valley, South Range lived up to the hype with a 55-8 victory.
"We came in very excited because it was the game of the week and we wanted to put on a show and that's what we did tonight," Raiders kick returner Mathias Combs said.
Lisbon (4-1) entered Friday's game averaging close to 50 points a game. The Blue Devils crossed the 50-yard line once, when quarterback Collin Sweeney turned a broken tackle into a 43-yard touchdown run late in the second quarter.
"It doesn't define us," Lisbon coach Jim Tsilimos said. "There's still a lot of football to be played and we enter our tier next week, so we have to bear down and get better."
South Range took control on its first offensive series. Running back Nathan Daniszewski took his first carry 64 yards for a touchdown.
The Raiders forced a three-and-out and the South Range offense was held to a fourth-and-two, but couldn't be stopped. Peyton Remish got the first down and a touchdown from 14 yards out.
South Range rushed for 392 yards at War Memorial Stadium. Daniszewski and Remish had the lion's share with 136 yards and 110 rushing yards, respectively. The Raiders had 12 different players carry the ball and that's how Raiders coach Dan Yeagley likes it.
"That's the difference. I was talking to the media this week and they were saying 'you don't have a 500-yard rusher. You're undefeated and don't have a 600-yard passer,'" Yeagley said. "It's a total team effort. We have four or five people that can run. We have four or five people that can catch. We have two guys throwing the ball. We're playing a ton of kids all over the place."
Daniszewski struck again with a short touchdown run early in the second quarter. The Raiders' defense forced another three-and-out from the Blue Devils and Combs returned a punt 65 yards for a touchdown.
"Our team is just very good at special teams, we practice it a lot so we always block very well and it's just my job hit the holes they make for me," Combs said. "Usually, it's a big hole. My job is really easy."
Sweeney's touchdown broke the shutout, but Combs wasn't done with the Blue Devils. He returned the subsequent kickoff 85 yards for another touchdown. Combs now has five touchdowns on the year and four of them have come on special teams.
South Range's (5-0) bench took over after Combs' second touchdown. Backup quarterback Aniello Buzzacco punched in a short touchdown run to close out the first half.
South Range took the opening kickoff of the third quarter and went the length of the field. Buzzacco capped off the drive with a 16-yard touchdown run to turn on the running clock. Ethan Dominguez added a touchdown in the fourth quarter.
More like this from vindy.com