Mallory Naffah | Jeffrey Padurean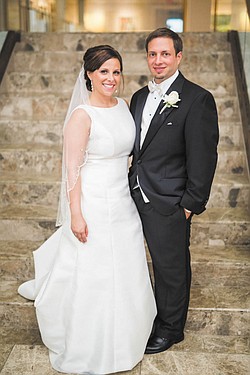 Photo
Mr. and Mrs. Jeffrey Padurean
CANFIELD
Mallory Lynn Naffah of Canfield and Jeffrey Glen Padurean of Lisbon were married in a 1:30 p.m. ceremony Sept. 19, 2015, at St. Michael Catholic Church.
The bride is the daughter of Michal and Karen Naffah of Canfield, and the groom is a son of John and Janet Padurean of Lisbon.
The ceremony was performed by the Rev. Terrance J. Hazel, and the reception took place at The Embassay Banquet Centre in Boardman.
The bride wore an ivory satin sleeveless gown with a V-back. It was embellished with buttons down the back and the attached chapel train. She also wore a fingertip veil with a beaded scalloped embroidered edge and crystal floral embroidery motifs.
Krista Giannios, cousin of the bride, and Sable Beshara-Kyle were the honor attendants. The bridesmaids were Lisa Padurean, sister of the groom, Taylor Neimes, Taylor Amendolara, Nichole Sorice and Tricia Bettura. Paityn Mockbee, cousin of the groom, was the flower girl. The attendants wore amethyst-colored gowns.
Todd Padurean, brother of the groom, was the best man. Scott Padurean, also the groom's brother, Nicholas Hoff, David Wendel, Ryan Carletti, Patrick Burgan and Chris Huckshold were the groomsmen. Zander and Paxton Padurean, nephews of the groom, were the ring bearers. Matthew Myers, cousin of the bride, and Angelo Babbaro served as the ushers.
Mrs. Padurean graduated from Mount Union College with a bachelor's degree in business administration. She is the vice president of Naffah Hospitality Group in Canfield.
Mr. Padurean graduated from Otterbein University with a bachelor's degree in accounting. He is the director of operations for Naffah Development, Canfield.
The couple traveled to Maui, Hawaii and Napa, Calif., for their honeymoon, and now reside in Canfield.
More like this from vindy.com